This post may contain affiliate links. Please read my disclosure policy.
Grocery shopping services are new to the Houston area and I recently had a chance to review a new service, Shipt, that delivers groceries to your house!
Recently, there was a conversation on my neighborhood's Facebook page about the new services available in our area and some were all over the idea while others were a little more apprehensive.
Some of you might say: "I like to go grocery shopping" or "I'm worried that they won't be pick out produce like would and just choose what's on top" but I have to say, my experience was great with Shipt, one the one of the newest services in our area!
Well, I felt that way too but I can tell you that the service was way handier than I expected. I placed my first order while we were heading home from a road trip (my husband was driving!) I could go through the app and add the things I knew we would need…milk, bananas, chicken for dinner. You get the idea. I chose my delivery window time (sometimes as soon as an hour after placing the order) and can place my order up to a week in advance of delivery. If you prefer, you can leave a cooler on your porch for delivery if you won't be home. I wanted to be home for my first delivery though—plus it's so crazy hot right now in Houston! If you feel comfortable, you can even have the groceries delivered inside to your kitchen and even get help putting things away (I'd say that is tip worthy!) Or perhaps you have a refrigerator in the garage and feel comfortable leaving the door open for the groceries to be put away there—it's all up to you!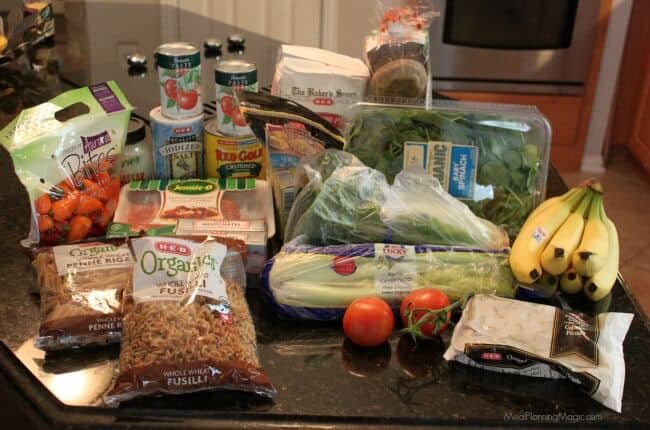 Once you become a member and download the Shipt app (available on iOS, Android and web), you use that to choose your groceries, the delivery time you want and then check out. That's it and then wait for your groceries to arrive!
They partner with Partnered with different grocery stores depending on what region you're in. I'm in the Houston area and they've teamed up with HEB here.
Think of the service personal shopping for groceries. You can choose how to be contacted, but my shopper texted me before she got started and then throughout her shopping trip. It was handy because a specific brand of one of the items I ordered (General Mills all-purpose flour) was out of stock (due to the recent recalls I suppose). I was able to tell her to choose a different brand or skip it altogether. My shopper even told me about an in store promotion that allowed me to receive a free item when purchasing one of the items already on my list—bonus! Once my order was delivered, I received an adjusted receipt in my email inbox. You can request same shopper and if he/she's available and build a working relationship with them. All shoppers have had a background check done and are members of your own community working as contract workers for Shipt.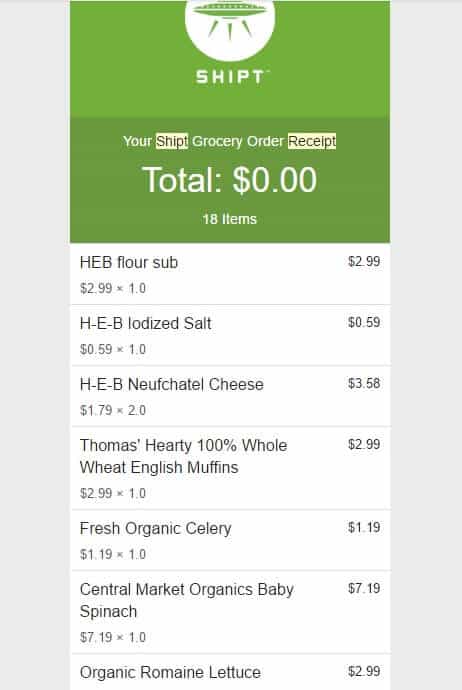 Shipt is membership based. You can join for $14 per month or $99 annually. If your order totals $35 or more then delivery is free. If it is less than $35, then a delivery charge of $7 will be applied. Tipping is not required but if your shopper goes above and beyond, you can tip if you like.
There are lots of ways to learn How to Save With Groceries Delivered To Your Door so here are a few pros and cons about the Shipt service.
PROS
• I would have loved this service when my children were newborns. If you have kids, remember those days of 3 hours of sleep and trying to get everything together just to make a seemingly simple trip to the store?
• Or maybe you or a family member has just had surgery or are sick but still need groceries for your family. Order online and have them delivered to your house!
• If you care for a parent or other family member and they have service in the area, you can even have groceries delivered to them!
• Save time and there's no more fighting the crowds. Whether your motivation is to avoid the sometimes madness at the grocery store or just to save time so you can do other things you enjoy, Shipt's service will help you do both!
• MEAL PLANNING! This type of service helps with budgeting because you are less likely to impulse buy when you are adding items to your list based on your menu plan for the week. The app also includes sale items.
• Having a party? Add a special request to add deli trays to your order and it's like your own personal caterer coming to your house but usually for a lot less money!
CONS:
• Can't impulse buy. I know I said this was a pro but sometimes it might be ok to impulse buy. Like last week, I was at the grocery store and saw that asparagus was on sale. I didn't even see that before and thought, oh, that will go well with the chicken dish I had planned.
• Shoppers cannot purchase alcohol or tobacco products. May not be a big deal to everyone but if that's something you want, you'll need to go to the store yourself for those items.
• You may find that some grocery item prices are slightly higher than if you shopped yourself. It's not across the board necessarily but just a heads up!
• The fees. Since this service is a convenience, you'll pay for the service. But you can take advantage of the referral fees and tell your friends about it. If they sign up using your code, you will receive a referral credit on your next order!
The Shipt service is rolling out in Texas and currently available in Austin, Dallas, Fort Worth and Houston. They also operate in Phoenix, AZ, Coumbus, OH and multiple cities in Tennessee, Alabama, North Carolina, South Carolina, Georgia and Florida.
If you're interested in trying out Shipt, you can use my referral code here and save $10 off your first order!

Disclaimer: I have been compensated by Shipt to review their service however all opinions are my own!
This post contains affiliate links but there is no extra charge to you to use it and you'll actually receive a credit when you use it!