This post may contain affiliate links. Please read my disclosure policy.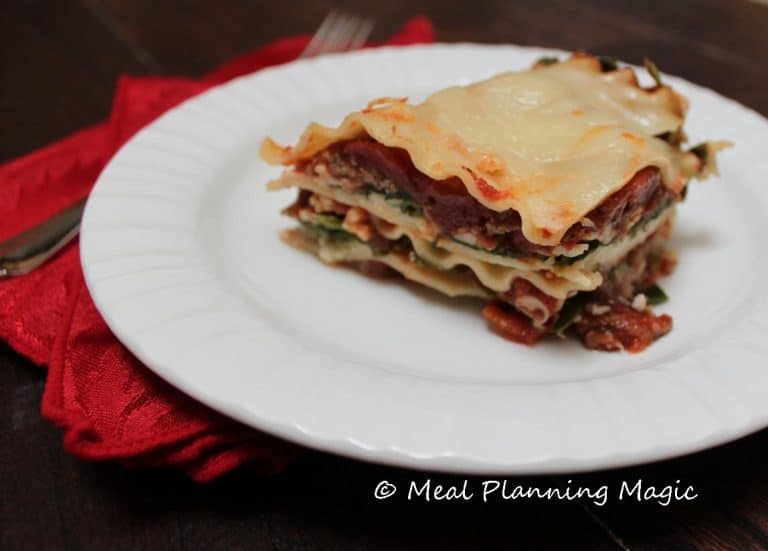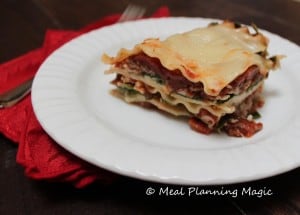 I'm not going to lie. When I first saw this recipe and that it called for arugula, I was a little unsure. Arugula can have such a strong flavor—and I'm not really a big fan. But I decided to give it a go since we like lasagna and all the other ingredients called for in this recipe. I went to the farmer's market over the weekend and picked up some fresh spinach and arugula. The farmer told me the arugula was really strong because it had just been picked the day before. So I decided I might cut back on it for this recipe.
I even made the spaghetti sauce from scratch in my crockpot overnight while I slept (talk about meal planning ahead) Then, I actually assembled this lasagna early in the day as I knew our afternoon schedule was going to be pretty busy. It went together relatively quickly and it worked out great because when we got home from our different activities, it was ready to go into the oven!
This lasagna was fantastic! My whole family loved it—even my non-lasagna loving son who ate all of his! I did notice the arugula a bit but it was not overwhelming and everyone else said they couldn't taste it. Same for the spinach–not much flavor, just lots of yummy goodness. I'm lucky my kids call spinach one of their favorite vegetables though! I served the lasagna with a garden salad and we had a filling meal. The next day I had some as leftover and it was even better. We'll definitely be making this again and if you're looking for a new way to make lasagna a little bit healthier, give this one a try because it's packed with flavor too.
Beef, Arugula and Spinach Lasagna
Servings: Serves 6-8
Prep Time: 20 minutes
Cook Time: 1 hour, 10 minutes

Ingredients
1-½ lbs. 95% lean ground beef
2 tsp. minced garlic
1-¼ tsp. salt, divided
¾ tsp. pepper, divided
4 cups prepared pasta or spaghetti sauce
2 cups loosely packed fresh baby arugula (about 1-¾ oz.)
2 cups loosely packed fresh baby spinach (about 1-¾ oz.)
1 container (15 oz.) fat free ricotta cheese
2 egg whites
2 Tbsp. chopped fresh basil
2 Tbsp. chopped fresh oregano
9 uncooked, oven-ready (no boil), lasagna noodles*
1-½ cups reduced fat shredded mozzarella cheese*

Instructions
Heat oven to 375°F. Brown ground beef with garlic in large nonstick skillet over medium heat 8-10 minutes, or until beef is no longer pink, breaking up into ¾-inch crumbles. Pour off drippings; season with ¾ tsp. salt and ¼ tsp. pepper. Stir in pasta sauce. Set aside.

Combine arugula and spinach. Set aside. Combine ricotta cheese, egg whites, basil, oregano, remaining ½ tsp. salt and ¼ tsp. pepper in small bowl.

Spread 1 cup meat sauce over bottom of 11-¾ x 7-½-inch glass baking dish. Top with 3 noodles, half of the ricotta mixture, half of the spinach mixture, ½ cup mozarella and 1-½ cups meat sauce. Repeat layers. Top with remaining 3 noodles and meat sauce.

Cover with aluminum foil. Bake in 375°F oven 45 to 50 minutes, or until noodles are tender and sauce is bubbly. Remove foil; sprinkle with remaining ½ cup mozzarella. Bake uncovered
5 minutes or until cheese is melted. Let stand, loosely covered, 10 minutes before serving.

*NOTES: I made boiled regular lasagna noodles because I don't care for the no-boil kind. I also shredded my own mozzarella because I'm kind of weird about using the pre-shredded kind and try not to use it if I can help it.

Suggestions
Oven-ready noodles and prepared pasta sauce makes this a breeze to prepare. Make double and freeze for future meals.
This recipe courtesy of and used with permission from The Healthy Beef Cookbook published by John Wiley & Sons, Inc.
Nutritional Information
Nutrition info per serving: 520 calories; 12 g fat (5 g saturated fat; 3 g monounsaturated fat); 127 mg cholesterol; 1260 mg sodium; 49 g carbohydrate; 5.1 g fiber; 47 g protein; 8.1 mg niacin; 0.4 mg vitamin B6; 2.3 mcg vitamin B12; 6.9 mg iron; 20.3 mcg selenium; 6.1 mg zinc.
This recipe is an excellent source of fiber, protein, niacin, vitamin B6, vitamin B12, iron, selenium and zinc.
This is the third of four weeks through March 18th where I'm cooking up new recipes from the Texas Beef Council with nine other bloggers.
Disclosure: I am participating in a four week campaign with the Texas Beef Council and am being compensated. All opinions are my own. Recipes are courtesy the Texas Beef Council.