This post may contain affiliate links. Please read my disclosure policy.
Not everyone's motivation to organize your pantry is the same but for me that inspiration is rarely because of a general desire. I usually like to organize it before the holidays to make room for extra ingredients for holiday meals or treats or food gifts. Or sometimes it's long after a vacation when I've purchased food souvenirs. This time, it was shortly after our vacation and an mini-ant invasion had occurred. I found the offending open bag that invited them in and I think I'm slowly winning that battle–thankfully! I've shared some of these tips before but as the new school year is just around the corner, I thought it would be a good time to share them again so we can all get started off for a more organized school year (and even if you don't have kids in school, why not take this time to do a "reset" on your pantry too?)
Here are six tips to help you organize your pantry: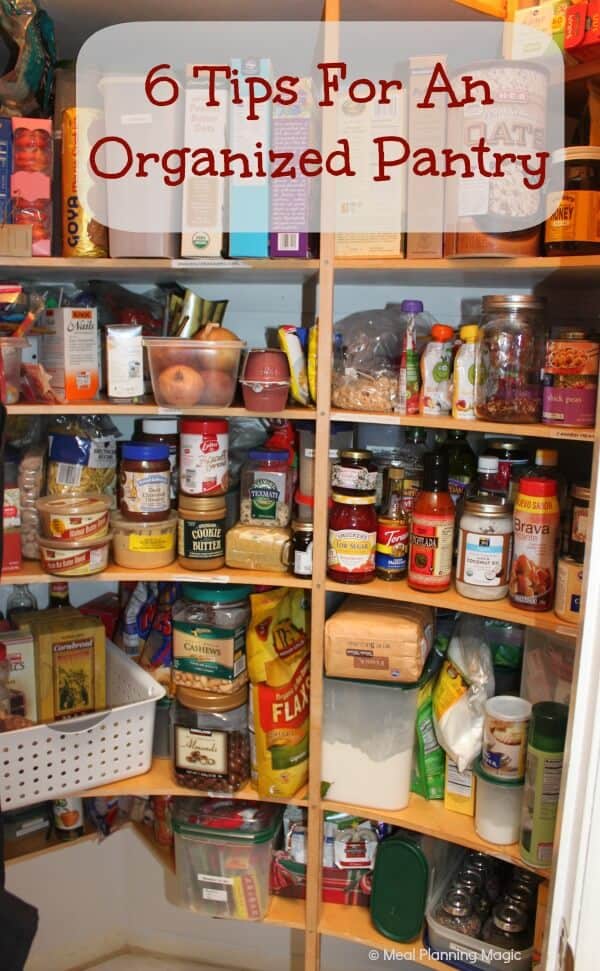 Take everything out.
I mean EVERYTHING! Don't just do it shelf-by-shelf. Take it all out. If you've already got it sort of sorted by like items, keep those together if you want to, but it's not key.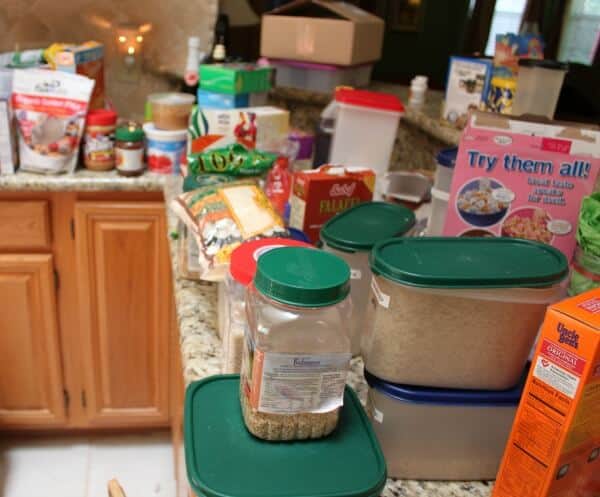 Wipe down your shelves.
Whether they're wood shelves like mine or wire shelves, now is a great time to get that food that has drizzled out of containers (we found some light dustings of flour and a small bit of honey–that's an invitation for ants waiting to happen!) or even just the dust that has settled there.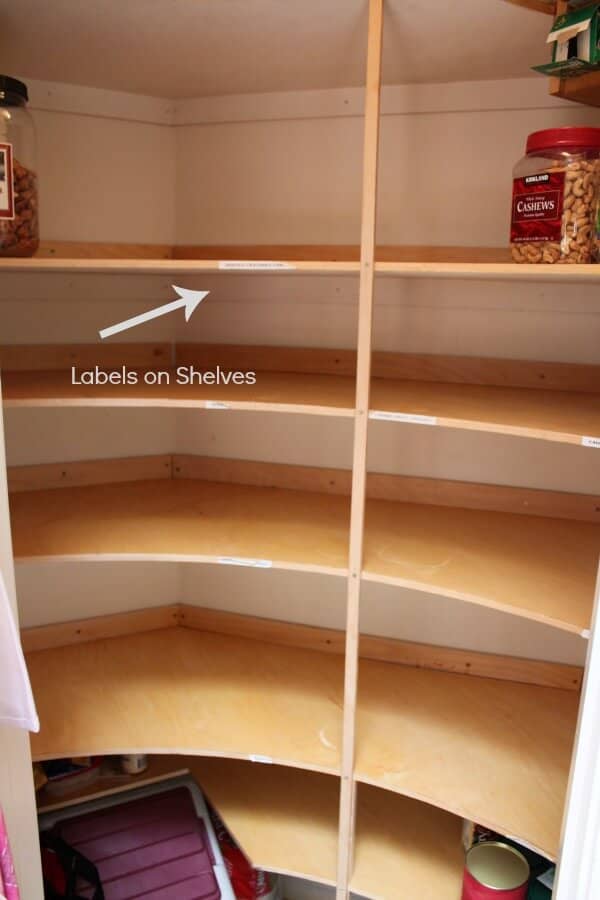 Look at the food you've pulled out–decide what to keep and what to toss.
Is any of it past it's expiration date? When was the last time you actually used it to cook with? Since I love to cook, I've got a lot of basics. I probably have a half a dozen types of vinegars and at least that many types of rice and nearly as many different types of flour. Those seem to last "forever" so I didn't toss too many of those. Are there any half packages of items that you can consolidate? We do that with cereals sometimes and make a hodge-podge blend combined in one of my Tupperware Cereal Storers.. The same goes for snack crackers. Can you put things into a smaller container so you can save space? I also realized that some of the random, unopened sauces or baking mixes were originally part of gift baskets that we'd received or for planned meals that were never made and just never used. I also decided that if it was not able to be stored in a sealed storage container or bottle then it wasn't going back or it was to be eaten this week–and quick!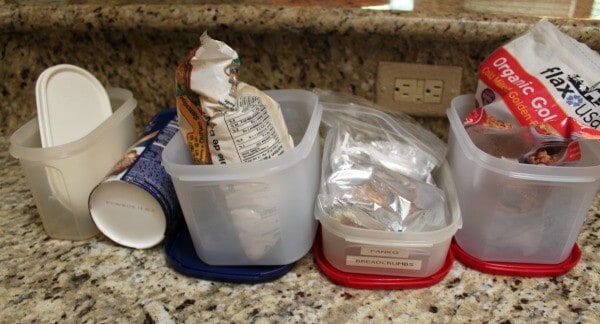 Assess your storage options.
When we were first married I became a Tupperware consultant so I could earn enough to buy my own storage system. I love the Modular Mates system . I know there are lots of options out there but I urge you to find one that works for your space and budget. Storing your items in glass or plastic sealed containers will not only keep the bugs out but they will also help preserve freshness which will save you money in the long run. I've slowly been switching over to more glass storage options although I'm still cautious because with children around, I worry more about breakage.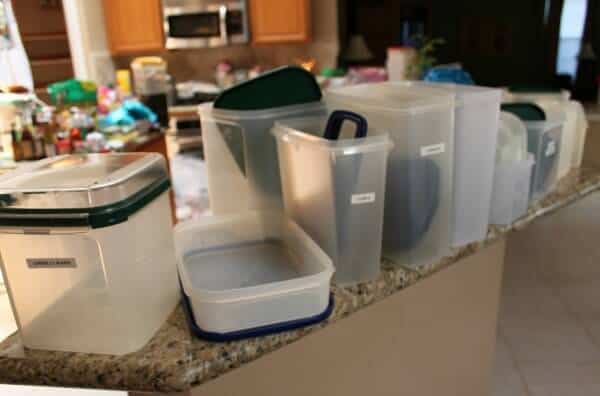 Group like items together and then put it all back in those groups.
I've got labels on the shelves in my pantry so that anyone who goes into my pantry can hopefully find what they are looking for. My categories include Canned Veggies/Fruits, Cereals, Crackers and Dry Snacks (like nuts or dried fruits), Baking, Pasta/Rice, Soups, Sauces/Vinegars, etc. I also have a shelf on the bottom where the kids can reach snacks that they are allowed to get themselves…things like raisins, dried fruit, granola bars, etc. This gives them a little independence in preparing their own snacks. And in the last year I have dramatically cut down on the number of crackers and cereals that we have… usually only a couple of different varieties at a time. We're just eating fewer of them and if we have too many to choose from, they're more likely to get stale.
Keep track of what's in there so you can use it up and reduce food waste.
I modified my freezer inventory form to make a pantry form. As I was putting items back into my pantry, I was writing them on my form so that when it comes time for meal planning, I know what I have and can use it up before I buy new! You can download a Pantry Inventory form for yourself by clicking the link!
I don't know if you're like me but I always feel so good after cleaning out and reorganizing a closet or cabinet. My pantry was no exception—I'm still enjoying the benefits of my labor because things are easy to find and I can then spend less time in the kitchen. And I know that I'm reducing food waste by using up the leftover ingredients that never got used the first time around. Like any closet or cabinet, you should plan to clean out your pantry at least once a year or every six months. I bet you'll be glad you do!