This post may contain affiliate links. Please read my disclosure policy.
Brownie cake balls are bite-sized homemade brownie truffles with a thick coating of chocolate. The perfect indulgent, easy to make dessert recipe!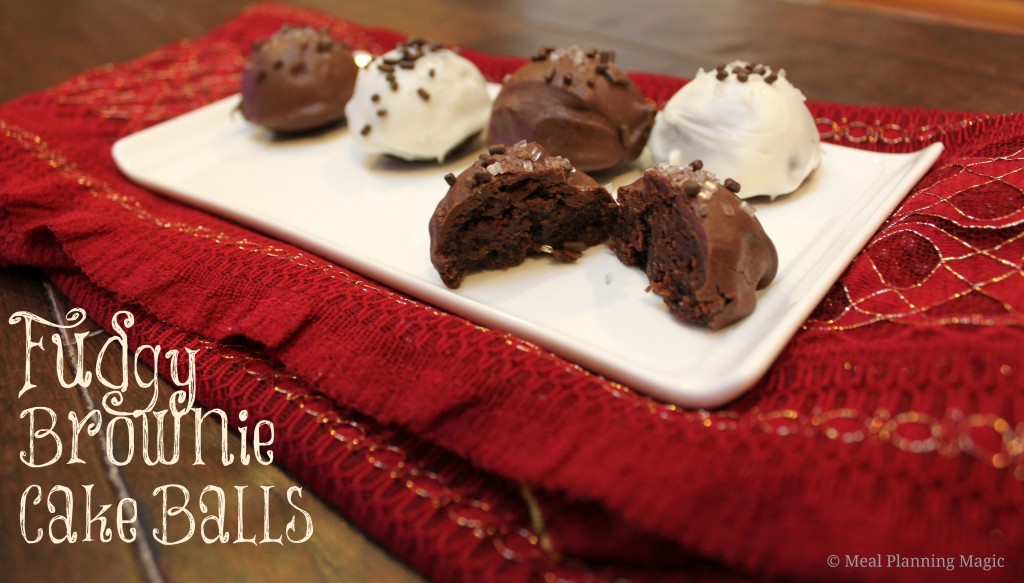 It's the 8th week in the 12 Weeks of Christmas Treats! Next week is Thanksgiving so be on the lookout on WEDNESDAY for my next recipe.
So, now on to this week's recipe! Fudgy Brownie Cake Balls. This past summer I picked up this fun Nordicware cake pop pan at Target. I'd been eyeing it for a while and decided to splurge. It's about $15. But I don't really like the regular cake pops with the cake mix and frosting, that are so popular these days. I wanted something that would give me a similar treat without those ingredients.
By the way, I've read on the Nordicware Facebook page that they are coming out with a cookbook for more pop recipes! That's the one downside to this pan–I don't think you can use a regular cake mix recipe.
These brownie cake balls are SO easy to make, I didn't even need to get the mixer out!
And my son helped me, too. Now I will say these cake balls never really fill the whole sphere of the pan, but still make a nice truffle-like shape. I dipped them in baking chocolate, added a few sprinkles (which you can change up the color of if you like) and voila! Easy dessert. I made these recently for a luncheon at school and they were a big hit!
Fudgy Brownie Cake Balls
Serves:
Makes about 24 cake balls.
Ingredients
¾ semi-sweet chocolate chips
½ cup butter
¾ cup sugar
3 tablespoon cocoa
2 eggs
¾ cup flour
¼ teaspoon salt
24 lollipop sticks
12 oz. white or chocolate bark coating
Instructions
Heat oven to 325F. Grease and flour pan. In medium saucepan, over low heat, melt the butter and chocolate chips together. Stir until smooth. Remove from heat and pour into a medium bowl. Add sugar and cocoa. Stir until blended. Add eggs, one at a time, mixing well after each addition. Add flour and salt. Mix until blended. Spoon batter into bottom half of pan (without holes) filling each well so it mounds over the top of the pan. I used a medium scoop for this—so easy!
Place top half of pan on top and secure with keys. Bake for 20-25 minutes, until toothpick inserted comes out almost clean. Cool 5 minutes in pan, then remove cake pops from pan to cool completely.
Melt white chocolate or chocolate bark according to package directions. Dip cake ball in melted chocolate. Dip cake pop in melted chocolate, spinning to let excess chocolate drip off. Decorate with sprinkles as desired. Repeat with all balls. Place on cooling rack or parchment paper to set.
Be sure to check out all the other bloggers who are participating this week in the 12 Weeks of Christmas Treats blog hop… you'll have no excuse of "I don't know what to make!" And if you're a blogger and want to join in on the fun, check out this post for the form to fill out to start baking along with us!