This post may contain affiliate links. Please read my disclosure policy.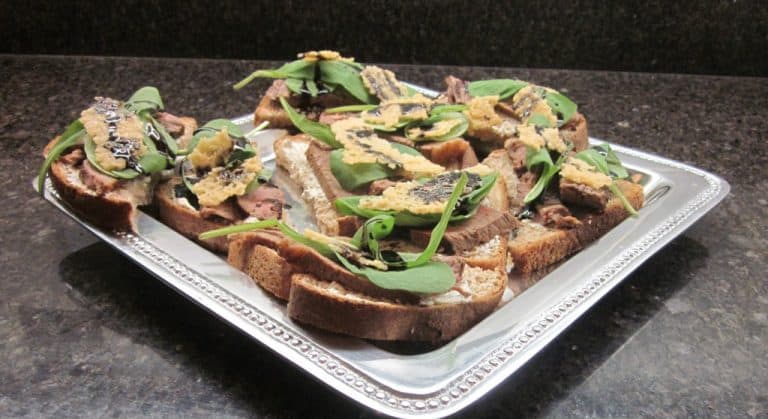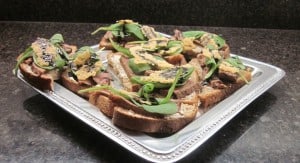 Well, December is here and for us that means our calendar is filing up with lots of extra activities this month. While I've got my freezer pretty full with meals ready to go on busy weeknights I'm constantly on the lookout for new recipes and especially for those that are for interesting and tasty appetizers I can serve visiting family and friends.
Anyone who knows me well knows that I can whip up a variety of dips (some of which are expected at ALL my get-togethers now!) But what I really love are those tasty little bites that seem to take a little longer but pack a big punch on flavor (but really are easier than they look).
So starting this week through the end of December, I and nine other Texas bloggers and the Texas Beef Council are teaming up to bring you a variety of dishes to help you celebrate the holidays with beef. Each week will be a new theme (with a variety of recipes) and we'll all share our experiences on how the different recipes turn out. And more importantly how they taste!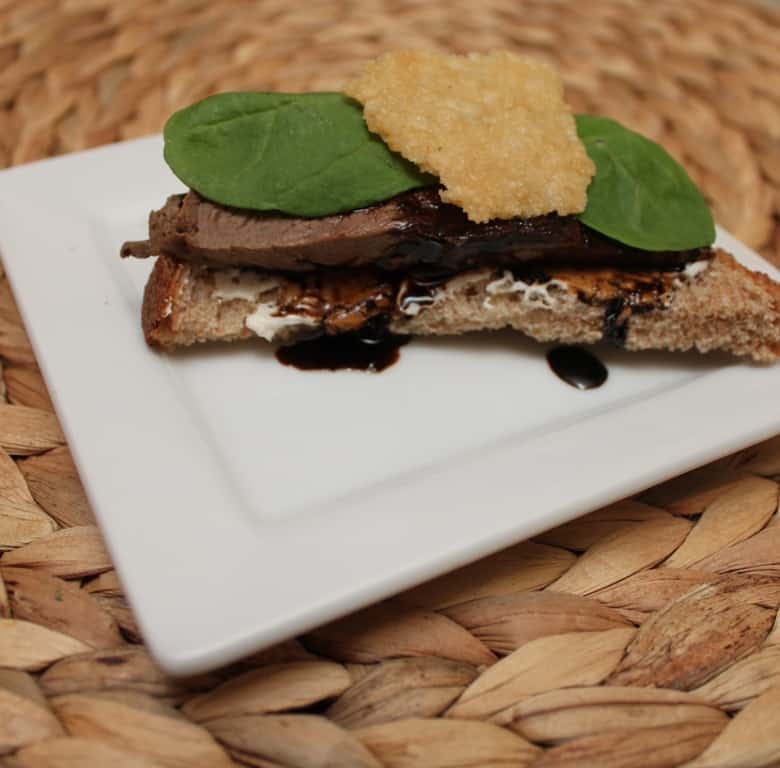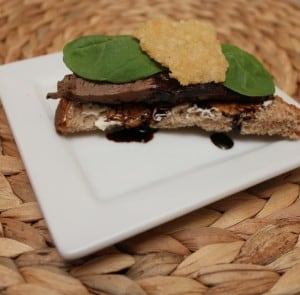 This week I chose to try out the Beef Crostini with Balsamic Drizzle and Parmesan Chips. Best of all, I was attending a party earlier in the week so I could prepare the crostini and have my friends try it out! Let me tell you, at first it seemed like it would be a lot of work. But in reality it was a snap to pull it all together. I made everything ahead of time and stored them in the refrigerator until it was time to assemble. I brought everything over to my friend's house and quickly made the individual crostini's. Everyone LOVED them. I mean really loved them! Most of these people I only knew casually through the hostess so I was flattered to hear everyone's positive feedback.
Since they are made on one half slice of sandwich bread, they are a hearty appetizer and my family enjoyed the leftovers for the next day. Let me warn you too, the parmesan crisps are addictive. I suggest you make a double batch–some for the appetizers and some just for munching on!
BEEF CROSTINI WITH BALSAMIC DRIZZLE & PARMESAN CRISPS
Servings: 24 Appetizers
Prep Time: 45-50 minutes
Cook Time: 12-15 minutes

INGREDIENTS
2 boneless beef top loin (strip) steaks (about 1-¼ pounds)
½ cup freshly grated Parmesan cheese
1-½ teaspoons all-purpose flour
12 slices thin white sandwich bread, crusts removed
1-½ teaspoons coarse grind black pepper
salt
4 ounces garlic-herb cheese spread, slightly softened
prepared balsamic syrup*
24 small arugula leaves

INSTRUCTIONS
Heat oven to 350°F. Combine Parmesan cheese and flour in small bowl; toss to mix well. Spray baking sheet with nonstick cooking spray. Sprinkle Parmesan mixture evenly into 8-inch circle on baking sheet. Bake in center of 350°F oven 6 to 8 minutes or until melted and light brown. Cool 2 minutes on baking sheet, then remove to wire rack to cool completely. Break into 24 irregular-shaped pieces. Set aside.

Cut each bread slice diagonally in half. Place in single layer on baking sheet. Bake in 350°F oven about 6 minutes or until lightly toasted but not brown. Set aside.

Press pepper evenly onto beef steaks. Heat large nonstick skillet over medium heat until hot. Place steaks in skillet; cook top loin steaks 12 to 15 minutes (tenderloin steaks 10 to 13 minutes) for medium rare to medium doneness, turning occasionally. Carve steaks into thin slices; season with salt.

Meanwhile, spread 1 teaspoon cheese onto each bread piece; top with 2 to 3 steak slices. Drizzle balsamic syrup over beef; top with Parmesan crisp and arugula leaf. (As arugula is often peppery or bitter, fresh greens such as baby spinach can be substituted. Mine looked like baby spinach but tasted like arugula–weird!)

*Balsamic syrup is available in the dressing aisle next to the vinegars in large supermarkets and specialty stores.
If balsamic syrup is not available, it can be prepared by combining ¾ cup balsamic vinegar and 2 tablespoons molasses in medium saucepan; bring to a boil. Reduce heat to medium-high; cook about 10 minutes or until mixture is reduced to ¼ cup. Balsamic syrup may be stored in an airtight container in the refrigerator.

Nutritional Information
Nutrition information per serving, using top loin steaks: 74 calories; 3 g fat (2 g saturated fat; 1 g monounsaturated fat); 17 mg cholesterol; 101 mg sodium; 4 g carbohydrate; 0.2 g fiber; 7 g protein; 1.7 mg niacin; 0.1 mg vitamin B6; 0.3 mcg vitamin B12; 0.6 mg iron; 7.3 mcg selenium; 1.1 mg zinc.
© 2008-2011 Texas Beef Council – All Rights Reserved
Check back each week during December to find out what I'll be cooking up with the Texas Beef Council. And next week, on Tuesday, December 13th from 8 p.m.-9 p.m. CST, you can join us for the #TxBeef Holiday Menu Twitter party for great tips and information to help you create the perfect holiday menu whether its for festive parties, elegant entertaining or overnight guests. There will also be giveaways and a grand prize to help you get in the spirit.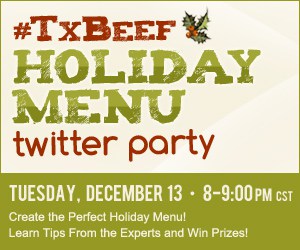 And be sure to check out all the other bloggers shown below who are participating in this campaign!
Disclosure: I am participating in a four week campaign with the Texas Beef Council and am being compensated. All opinions are my own. Recipes are courtesy the Texas Beef Council.