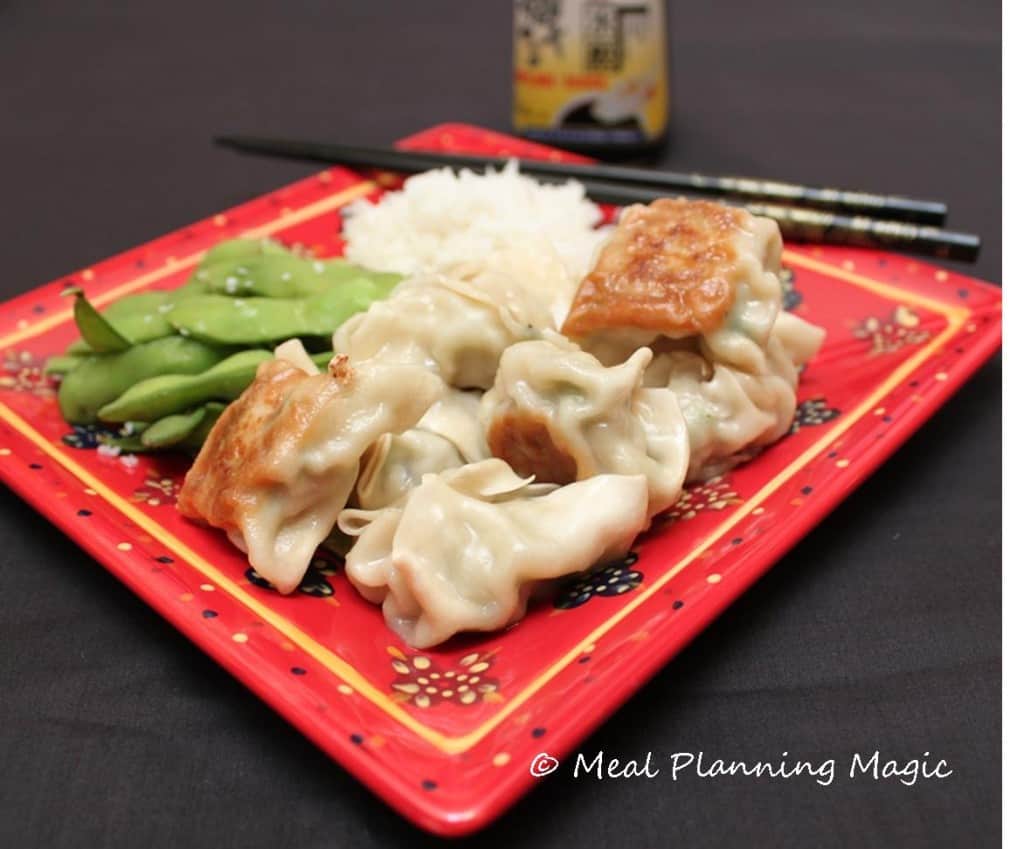 Last week I started a new series: Real Food Fridays. Well, this week I'm starting another one! This one will still feature real food but it has a twist because everything I'm making can be made ahead of time. What a bonus for those busy days when you need something quick but take-out or the drive-thru just won't do!
So first up is one of my favorites: Chicken and Cabbage Potstickers. I don't even remember when I first started making these. I know it's been at least a decade! The recipe is originally meant to be for appetizers but we love making them for a quick dinner with some steamed rice and edamame on the side. Recently I even made them for a quick weekend lunch because I could pull out just as many as we needed and kept the rest in the freezer.
Let me know what you think if you try them too!
Chicken & Cabbage Potstickers
Author:
Ingredients
<blockquote>CHICKEN AND CABBAGE POTSTICKERS
Adapted from <a href="http://www.myrecipes.com/recipe/chicken-pot-stickers-10000000665364/"><em>Cooking Light</em> magazine</a>
<strong>Ingredients</strong>
2 teaspoons vegetable oil
2 cups finely chopped green cabbage
1/2 cup water
1/2 pound ground chicken or turkey
1/3 cup minced green onions
1 tablespoon minced peeled gingerroot
1/2 teaspoon salt
1/2 teaspoon dark sesame oil
1 egg white
1 garlic clove, crushed
30 won ton wrappers
2 teaspoons cornstarch
4 teaspoons vegetable oil, divided
1 cup water, divided
Instructions
Heat 2 teaspoons vegetable oil in a large nonstick skillet over medium-high heat. Add cabbage; cook 9 minutes or until lightly browned, stirring frequently. While cabbage cooks, add 1/2 cup water, 1 tablespoon at a time, to keep cabbage from sticking to pan. Spoon cabbage into a medium bowl; let cool completely. Add chicken and next 6 ingredients (chicken through garlic) to bowl; stir well.
Working with 1 won ton wrapper at a time (cover remaining won ton wrappers to keep them from drying out), spoon about 1 tablespoon chicken mixture into the center of each wrapper.
Moisten edges of wrapper with water, and bring 2 opposite corners to center, pinching points to seal. Bring the remaining 2 corners to center, pinching points to seal. Pinch 4 edges together to seal. Place pot stickers on a large baking sheet sprinkled with cornstarch; cover loosely with a towel to keep them from drying out.
Heat 2 teaspoons vegetable oil in a large nonstick skillet over medium heat. Place half of pot stickers in bottom of skillet; cook 3 minutes or until bottoms are lightly browned. Add 1/2 cup water to skillet; cover and cook 3 minutes or until liquid is absorbed. Place pot stickers on a serving platter; set aside, and keep warm.
Wipe skillet with a paper towel. Repeat procedure with remaining vegetable oil, remaining pot stickers, and remaining water.
Notes
*NOTE: I like to freeze the extra potstickers that we don't eat right away. I freeze them BEFORE I cook them. Then I just pull them out, and cook as directed. I might add a couple of extra minutes for steaming but really you don't even need to do that-they cook up quickly!
My daughter got into the kitchen again this time—with the two of us, these went together in a snap. Just plan a little bit ahead as the sautéed cabbage needs to cool (sometimes I make that ahead of time too). I had some leftover filling so just put that in the freezer to pull out to fill new wonton wrappers another time. Are you sensing a freezer theme here?