This post may contain affiliate links. Please read my disclosure policy.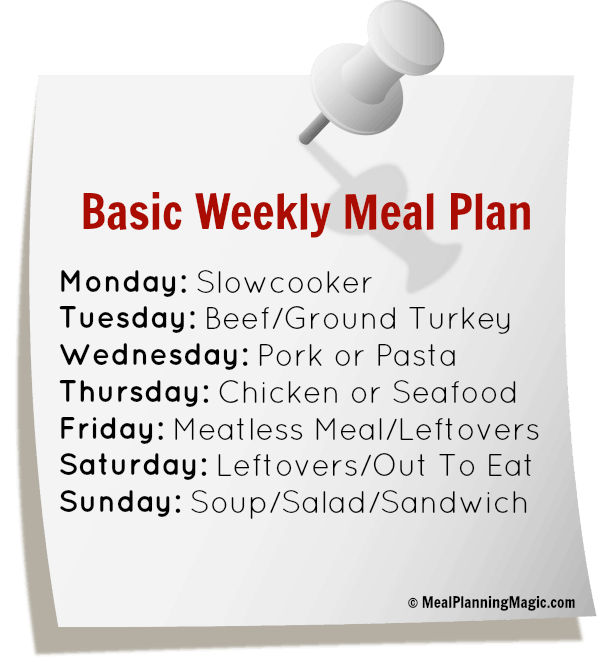 When I first started meal planning one of the very first things I wanted to do was to come up with more recipe rotation and break out of our dinner time rut. It seemed like all we ever ate was chicken. And chicken. And more chicken! I needed some sort of basic weekly meal plan as my guide. The crazy thing is I subscribed to a few cooking magazines and had tons of cookbooks so lack of recipes was not really my problem. But I guess chicken was easy so that was my default. So rather than coming up with a rotation of specific recipes, I wanted something that would be more of a guide when I was making my weekly meal plan (find out more about how to meal plan by checking out this post).
So I came up with a Basic Weekly Meal Plan Rotation. Now this is just a guide and you can update it to suit your needs and sometimes even week-to-week. What I did first was to take a look at each day in our week. Some days are more predictable than others so I can pretty well figure out what nights are going to be our busiest. Mondays seem to have always been a very busy day for us, so I try to plan a slowcooker meal on those days. I thought of other basic ingredients to look for in my recipes.
How this helps me is when I'm doing my meal planning, it helps me search for new recipes or maybe just add one of our family's favorites that fits the plan so that I can ensure more variety in our weekly menu plan. Sides are a little bit easier to add when I have the main meal figured out. Sometimes it might just be a simple garden salad or rice pilaf. Easy enough, right?
Here's what our Basic Weekly Meal Plan looks like:
Monday: Slowcooker
Tuesday: Beef/Ground Turkey
Wednesday: Pork or Pasta
Thursday: Chicken or Seafood
Friday: Meatless Meal / Leftovers
Saturday: Leftovers/Out To Eat
Sunday: Soup/Salad/Sandwich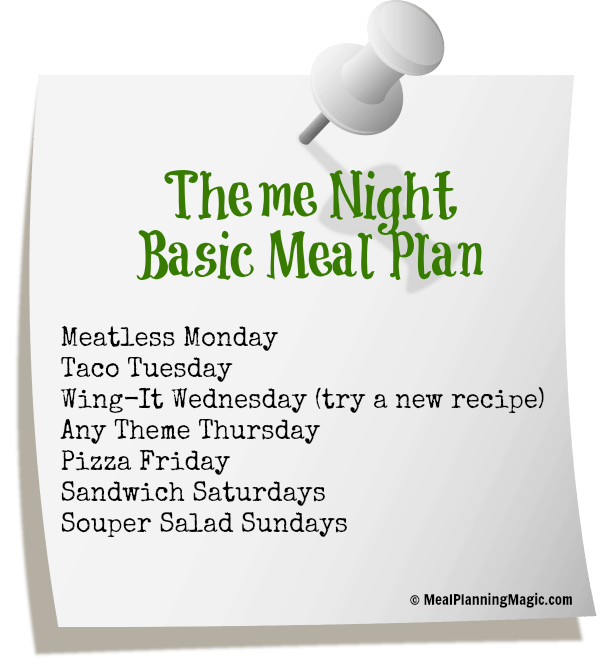 Another fun thing you can do is come up with a Theme Night Plan that might look something like this:
Meatless Monday
Taco Tuesday
Wing-It Wednesday (try a new recipe)
Any Theme Thursday
Pizza Friday
Sandwich Saturdays
Souper Sundays
You can get creative with how you interpret these themes and come up with your own variations. But hopefully these ideas will give you some ideas to come up with your own basic weekly meal plan guide! Thankfully it's been a long time since we've been in the chicken, chicken, chicken rut! How do you keep the rotation of recipes going at dinnertime? Share your ideas in the comments below!
Don't want to miss any more meal planning organizing ideas? Be sure to SIGN UP HERE to receive updates via email or RSS feed (you can choose the reader you prefer!) And don't forget you can always follow me on Facebook, Twitter, Pinterest or Instagram. They all offer a little something different and are a great way to stay in the loop on new menu plans, recipe ideas, giveaways, organizing tips and more!