This post may contain affiliate links. Please read my disclosure policy.
Enjoy a delicious taste of the rainbow when you drink your fruits and veggies. I've rounded up 50 Smoothies with Fruits and Vegetables Recipes to get you started!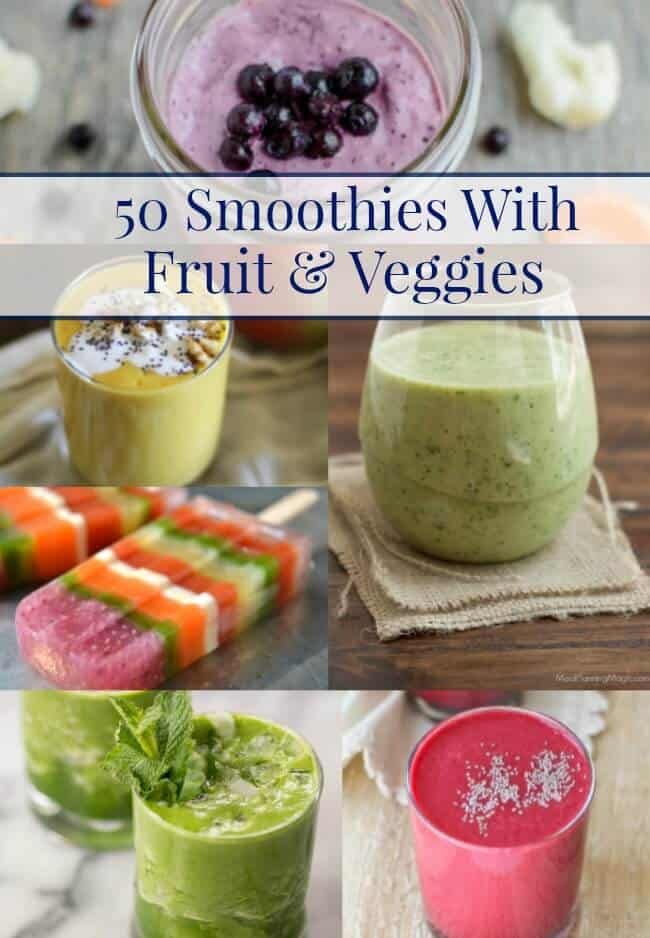 We love smoothies in our house! This past school year, we came to love them even more because they are such an easy on-the-go breakfast or snack. Both of my kids had early morning sports practices before school so getting something easy but nutritious made was a bit of a challenge at first. And after school, they would often come home "starving"Peanut Butter & Jelly Smoothie Green Monster Smoothie so I turned to smoothies as a nutritious option. My son especially likes the that is filled with bananas and spinach. I like the (made with fruit, not jelly!) because it s a protein rich smoothie that keeps the munchies away all morning or until dinner if I'm having it in the afternoon.
After making the same few smoothies over and over again, I decided we needed some new inspiration. Since most smoothies usually include fruits, I wanted to add a little more nutrition to them to make the most out of them. So I asked some of my blogger friends for some inspiration by sharing their Smoothies With Fruits and Vegetables recipes. I ended up with over 50 recipes to choose from! I've organized them by color so you can choose to eat a different color of the rainbow every day. I hope you enjoy this Smoothies With Fruits and Vegetables Roundup.
Green Smoothies
Green Monster Smoothie ~ Meal Planning Magic
Dandelion Detox Green Smoothie ~ Tasting Page
Green Mango Superfood Smoothie ~ Sweet Peas and Saffron
Green Smoothies ~ Amanda's Cookin'
Detox Cactus Smoothie ~ Cookie Named Desire
Sneaky Vitamin C Smoothie ~ Delish Knowledge
Banana Kiwi Kale Smoothie ~ Diethood
Peanut Butter Spinach and Banana Smoothie ~ Farm Fresh Feasts
Mint Chocolate Green Smoothie ~ Food Faith Fitness
Becky's Spicy Mango Tango Green Smoothie ~ Healthy Slowcooking
Green Tea Smoothie ~ Hola Jalapeno
Back on Track Green Detox Smoothie ~ Iowa Girl Eats
Tropical Green Smoothie ~ Joyful Healthy Eats
No Brainer Fruits and Greens Smoothie ~ Mom Spark
Mango Greens Smoothie ~ Organized Island
Tropical Mango Kale Smoothie ~ Peas and Crayons
Green Grape Smoothie ~ Recipe for Perfection
Detox Green Smoothie ~ Running to the Kitchen
Delicious Summer Berry Green Smoothie ~ Simply Darling
Tropical Green Slushie ~ Spoonful of Flavor
Anti-Inflammatory Tumeric and Pineapple Smoothie ~ Sweet Peas and Saffron
Rainbow Chard Ginger Fruit Smoothie ~ Tasting Page
Peach Mint Green Smoothie ~ The Frugal Foodie Mama
Green Smoothies ~ The Lemon Bowl
Chocolate Protein Green Smoothie ~ Yummy Healthy Easy
Orange Smoothies
Coconut Carrot Smoothie ~ A Cedar Spoon
Mango Carrot Ginger Smoothie ~ Culinary Ginger
Pineapple Mint Green Drink ~ Delish Knowledge
Orange Carrot Smoothie ~ Jen's Favorite Cookies
Tropical Pineapple Carrot Smoothie ~ Peas and Crayons
Purple Smoothies
Blueberry Cauliflower Smoothie ~ The Lean Green Bean
Lemon Balm Mint Blueberry Smoothie ~ Healthy Slowcooking
Blueberry Green Smoothie ~ Magnolia Days
Wild Blueberry Beet Smoothie ~ Running to the Kitchen
Blueberry Kale Power Smoothie ~ The Lemon Bowl
Red Smoothies
Raspberry Mango Cooler ~ Cutefetti
Orange Beet and Cranberry Smoothie ~ Farm Fresh Feasts
Pomegranate Slam It ~ Spabettie
Strawberry Beet Coconut Smoothie ~ The Roasted Root
Peanut Butter Banana Smoothie ~ Yummy Healthy Easy
Yellow Smoothies
Orange Smoothie ~ Food Faith Fitness
Tropical Mango Smoothie ~ Joyful Healthy Eats
Beet Tumeric Mango Smoothie ~ The Roasted Root
Citrus Ginger Mint Green Smoothie ~ Vanilla and Bean
Rainbow Smoothies
Green Berry Smoothie ~ Diethood
Drink Veggies – 5 Vitamin Packed Smoothie Recipes ~ Hello Glow
Layered Smoothie Popsicles ~ The View From Great Island
Chocolate Smoothies
Avocado Chocolate Peanut Butter Smoothie ~ Cookie Named Desire
Mexican Iced Chocolate Smoothie ~ Vegan In The Freezer