This post may contain affiliate links. Please read my disclosure policy.
Pecan puffs are soft, slightly sweet butter cookies, packed with pecans! This easy cookie recipe is the bite-sized cookie to bake for a Christmas cookie exchange or holiday dessert platter.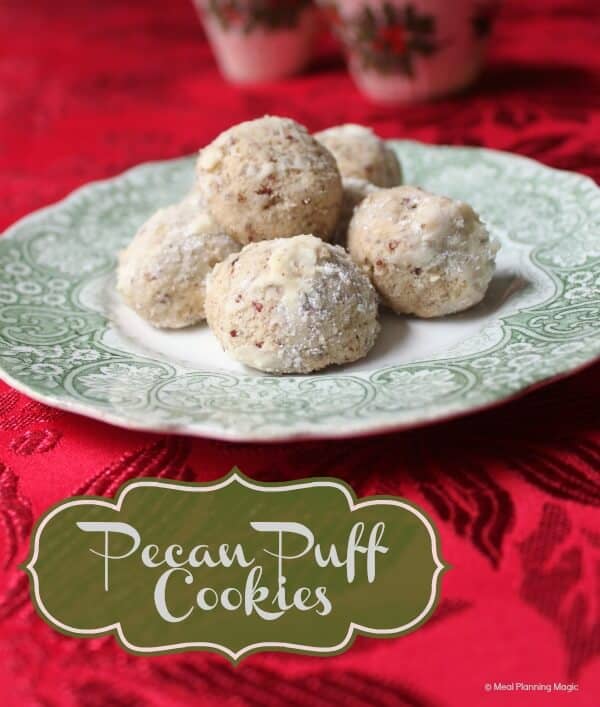 It's hard to believe we are already to the fifth week in our 12 of Christmas Treats. I'm excited to share with you a favorite recipe this week. There are lots of things that I love about these Pecan Puffs Cookies. First off, they are something my mom and grandma used to make every Christmas. It's been a bit more sporadic lately in recent years, but they are still a family favorite! So I decided to pull out this recipe and give them a try again. And I sure am glad I did. Not only are they super simple, they are a delicious, slightly sweet bite of goodness. Pecans are a big deal here in Texas—it's the state tree after all! So it's fitting that these cookies blend my family's history and our Texas home.
With only five ingredients and a couple of tablespoons of sugar, pecan puffs are a healthier cookie too, right?
They will store for at least a week in an airtight container and even longer in the freezer (a few months at least). This recipe can be easily doubled but don't let the small ingredient list fool you—the recipe yields about three and half dozen bite-sized cookies.

Here's the pecan puffs cookies recipe:
Pecan Puff Cookies
Ingredients
Pecan Puffs
½ cup butter, softened
2 T sugar
1 tsp. vanilla
1 cup whole pecans
1 cup all-purpose flour
½ cup powdered sugar
Instructions
Preheat oven to 300°.
Cream butter and sugar until well blended.
Chop nuts until finely chopped. Stir the pecans and the flour into butter mixture. Roll the dough into small balls (I like to use a small scoop to help make them uniform). Place balls on greased baking sheet (I used a stoneware baking sheet).
Bake for 30 minutes (yes, 30 minutes). Roll in powdered sugar. To glaze, put the sheet back into the oven for a minute. Cool on wire rack. Serve or store in an airtight container for up to a week or longer in the freezer.
Makes about 3 ½ dozen 1 ½" cookies.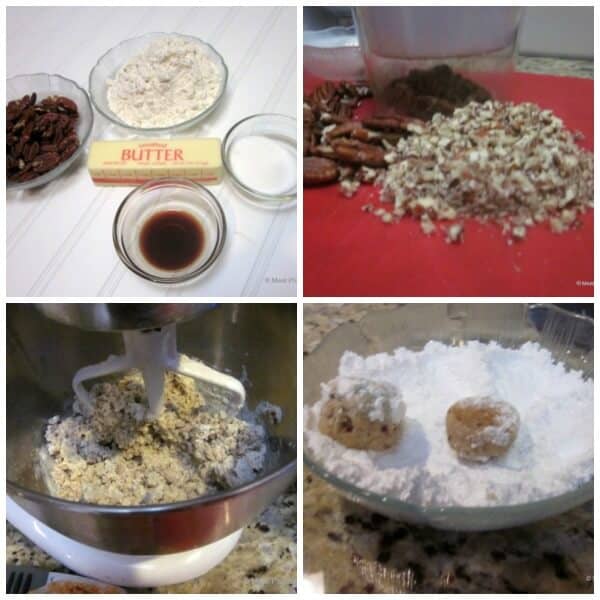 Be sure to check out our Pinterest board for all the great ideas too—it's a great way to keep track of your favorites.
Don't want to miss a recipe? Then be sure to CLICK HERE so you can subscribe to all the updates. Besides sharing holiday recipes, I also share all kinds of meal planning and kitchen organization ideas. It's simple and you'll also receive weekly meal planning inspiration in you inbox!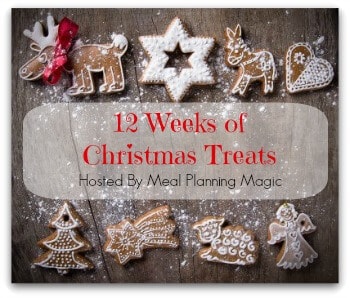 And be sure to check out the links below for all the bloggers who are sharing their own recipes this week! If you're a blogger and want to join in the hop, you can find more details and SIGN UP HERE.