This post may contain affiliate links. Please read my disclosure policy.
Healthy homemade potato chips are going to become your new favorite healthy snack! Baked homemade potato chips are just as tasty as fried potato chips, and a healthier snack!
This healthy homemade potato chips recipe is a guest post for you from Bon Crowder who blogs over at Math Is Not a Four Letter Word a blog about math learning, and That's Math!, where she incorporates math into all sorts of every day things. Bon is part of the Houston Bloggers group I belong to and she keeps us all laughing!
And let me tell you, she knows a thing or two about math. Her mind things about math all the time. Like how at our last monthly meeting, she was spotting geometric shapes and symmettry in the decor at the restaurant, proving that math is everywhere. You know there's in cooking too, right? Well, Bon takes it to the next level when it comes to incorporating math into cooking with your kids.
I'm excited to have her guest post today about her Healthy Homemade Potato Chips. Welcome Bon!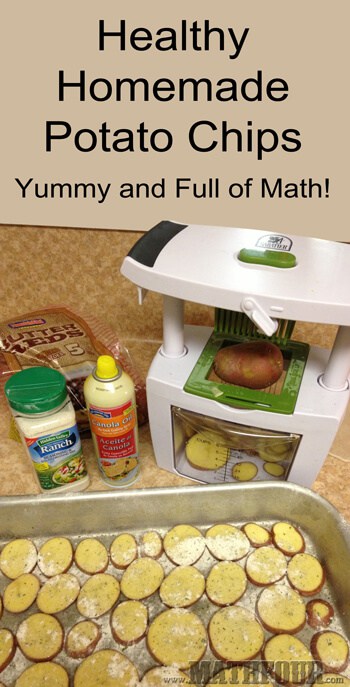 As soon as we got the Sabatier food chopper, I started pondering the geometry of perfectly chopped foods.
This thing makes wedges, rectangles and squares!
I first used the squares cutter to make some sweet potato fries that turned out mediocre. So I figured I'd switch to the rectangle slicer with white potatoes to see what would happen.
It was amazing!
I've experimented with different seasonings, oils, temperatures and times. And I've settled on what I think to be optimal.
Note that these homemade potato chips are more like disk fries.
They're not thin and crispy, but rather chewy fat circles with crispy edges.
And who doesn't like a chewy fat circle?
Preheat your oven to 425°. If you have children, say out loud: "The number 425 is 17×25 – how cool is that?"
Pull out a couple of baking pans or cookie sheets. Grab a handful of potatoes. I find the smaller potatoes work best, because they fit into the slicer without any pre-cutting. (BTW, that's a size thing, and size is math.)
Estimate how many potatoes might go into your pans. Say this out loud or write it down. Notice that estimating is part of math, too.
Start slicing – you can use the Sabatier, another slicer or a knife. The Sabatier makes the slices about 1/4 inch thick. So if you make them thicker or thinner, you'll have to adjust the time. (That's ratios – again math!)
Spray the bottom of the pans with cooking spray. Be generous.
Lay your circles or ovals on the bottom and see if your estimation was correct. Mine almost always is wrong. But it's still fun to try.
Slice more potatoes as necessary until you cover the bottom of your pans.
Spray the top of the potatoes with cooking spray, again being generous.
Sprinkle seasoning over the potatoes. I like to use Hidden Valley Ranch powder. But Tony Chachere's or Lowery's is good as well.
Bake at 425° for 45 minutes. That's three quarters of an hour, a fraction.
We eat them plain, but I'm sure they'd also be good served with ketchup, sour cream or even mayonnaise, if you'd like the European twist.
What do you think? Will you make the healthy homemade potato chips? Will you talk math while you do it?
Share your thoughts, seasonings or condiment twists in the comments!


Bon Crowder is a math mom and education advocate. She specializes in helping grown-ups see math in their everyday world so they can say it aloud to their children.
Check out her blog Math Is Not a Four Letter Word for various articles on math learning. Or head over to That's Math! to see more specific ways to see and say math using everyday things.