This post may contain affiliate links. Please read my disclosure policy.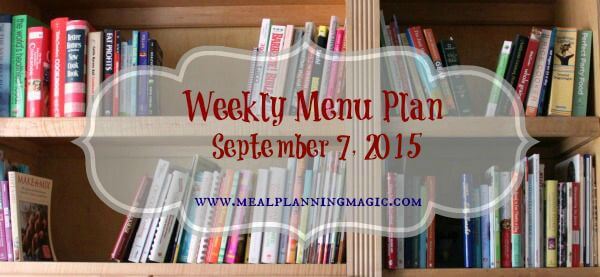 Well, I spent the better part of this Labor Day weekend laboring in the kitchen! We have a pretty busy week coming up so I'm hoping that by taking a little time up front to make up my weekly menu plan and prep some of the meal ingredients ahead of time it will really pay off with less stress during the week. I've got two slowcooker meals in the plan and freezer meals for some of the others to help streamline our crazy evening schedules. (If you'd like some tips for meal planning, check out my post )
I'm also testing a new overnight oats recipe that I hope will be a success. If you follow me on Facebook, you might know that last week I posted a picture of some failed slowcooker apple and cinnamon steel cut oats. They were a gloppy, sticky, flavorless breakfast that was a fail for sure! But thanks to some of y'all's suggestions, I am going to give it a go again sometime. In the meantime, I'm trying these ovenight oats to see if that will provide another quick and easy breakfast option. Wish me luck!
Now, on to this week's weekly dinner menu plan!
Monday: Pepperoni Roll (recipe coming to the blog this fall!) and garden salad
Tuesday: Homemade Spaghetti Meat Sauce and pasta with garden salad
Wednesday: Chicken Avignon (from Dream Dinners) with homemade roasted heirloom potatoes (purple, yellow and red potatoes tossed in olive oil and salt then roasted–so easy!) and roasted broccoli
Thursday: Slowcooker Loaded Baked Potato Soup (recipe coming to the blog this fall!) and a garden salad
Friday: Leftovers
Saturday: Out to eat–hoping to try a new restaurant that opened up nearby–a few to choose from actually–Japanes, pizza or Korean. We'll decide depending on our mood that day!
Sunday: Shrimp or Fish Tacos (your choice) with Cotija Cheese from Dream Dinners and homemade Mexican rice (recipe coming to the blog this fall–I need to take pictures because the last time it got eaten too quickly)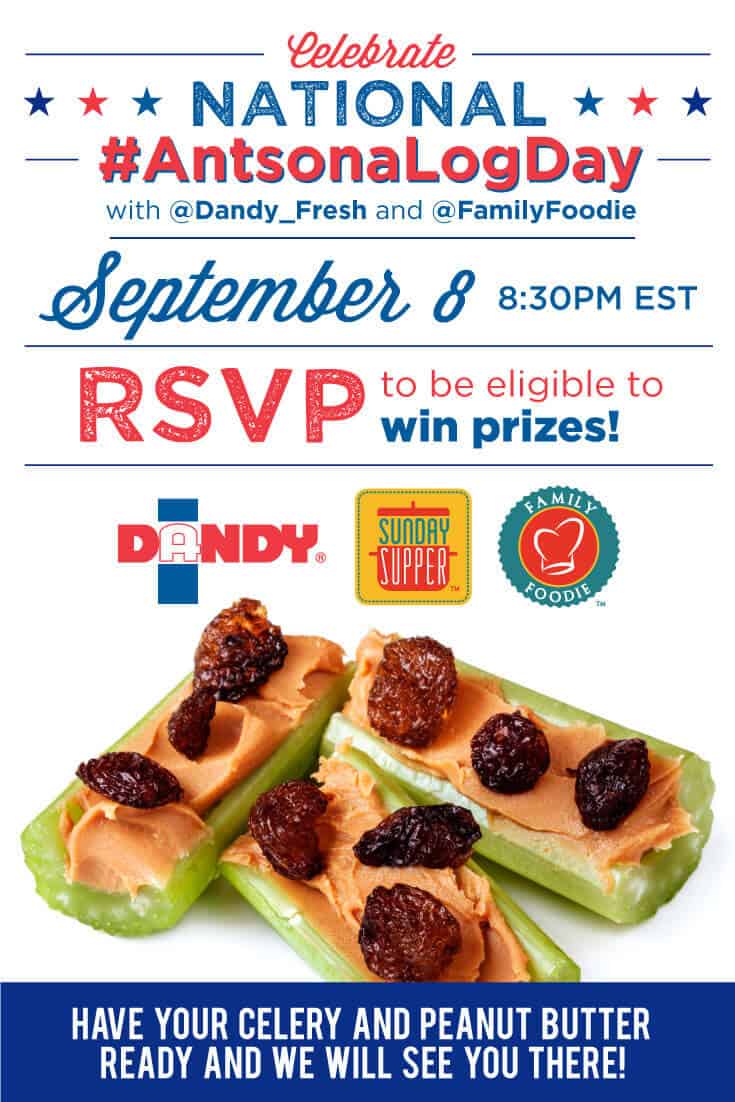 Snacks are also one area where I'm always looking for some variety. Did you know there is a National #AntsOnALog Day? Yep, that's right and it's THIS week. Tomorrow, September 8th, in fact. And I'm participating in a Twitter chat to share all kinds of healthy snack ideas. I hope you'll join me and Duda Fresh Produce tomorrow, September 8th at 8:30 pm EST for the #AntsOnALog Twitter chat. There are always great ideas shared at Twitter chats and you'll even have a chance to win a prize. You can RSVP here to be eligible for a chance to win a prize. I hope to "see" you there!
Now, tell me what's on your weekly menu plan this week? I hope you're cooking up something delicious!