This post may contain affiliate links. Please read my disclosure policy.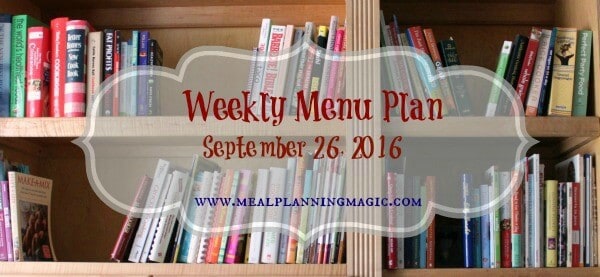 Last week I felt like I was gone more than I was home! It was a busy one–sometimes certain weeks just end up like that. And even though this week is filled with more appointments and meetings, it's a little less than last week so I guess that's why I feel like trying out some new recipes for dinner this week. Why not, right?
Monday: Broiled tilapia with fruit salsa (trying a new recipe, if it turns out it will appear on the blog at some point!) plus wild rice pilaf
Tuesday: Greek orzo salad and Mediterranean quesadillas–doubling up on those flavors for this meal! The quesadillas are a new recipe so same as above, if they turn out, look for them on the blog sometime
Wednesday: Beef Tenderloin, Pear and Cranberry Salad–trying an old favorite and will take pictures so I can add it to the blog for you all!
Thursday: Terracotta Chicken with pita bread and hummus (from Dream Dinners) , plus garden salad
Friday: Leftovers
Saturday: special activity-no cooking for me!
Sunday: Easy Homemade Tomato Basil Soup with grilled cheese–keeping things simple on Sunday after lots going on for the weekend!
I'm also trying some new recipes to use up some ingredients I had leftover from some dishes I made for my book club meeting last week that I hosted at my house. I'm making a Carrot Apple Salad and also remaking some recipes from the blog to take new photos and reshare with you all. I've got so many great recipes waiting to be shared–if only I had more time to get all the blog posts written. Never fear–they will appear! Be sure to subscribe to
What's on your menu plan for this week?