This post may contain affiliate links. Please read my disclosure policy.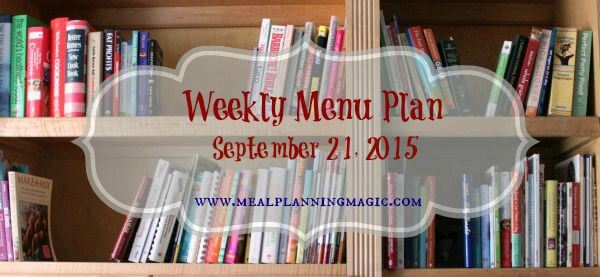 Last week I told you that I sat down and made my weekly menu plan for the next couple of weeks and sure am glad that I did! This past weekend was a productive one doing some fall cleaning and organizing and I was on a roll! It sure was great to check my menu plan for this week to see if I needed to make any adjustments (and nope, I didn't) before heading out to the grocery store to get what we need for the week. We've got an extra busy end of the week so it will be nice to have dinners figured out at the end of our busy days. So, let's get to it!
Weekly Menu Plan
Monday: Chicken, Rice and Black Bean Tortilla Soup plus garden salad
Tuesday: Texas Roadhouse Burgers (from Dream Dinners) plus choice of steak fries or sweet potato fries and carrot sticks.
Wednesday: Chipotle Sloppy Joes with Crunch Coleslaw. I'm remaking an O-L-D recipe (don't judge by the pictures!) so I can take new photos but also use up the rest of the cabbage from the Homemade Chicken & Cabbage Potstickers I made last week.
Thursday: Cattleman's Pie (from Dream Dinners) plus garden salad
Friday: Leftovers
Saturday: Special occasion–no cooking for me!
Sunday: Homemade Pad Thai and veggie of some kind
What's on your menu plan this week?