This post may contain affiliate links. Please read my disclosure policy.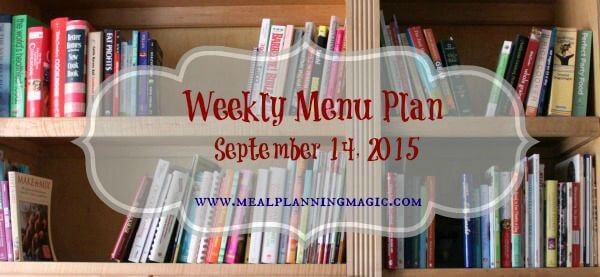 Yesterday I spent some time planning our weekly menu plan for the next couple of weeks. We're getting into the season of open houses and other evening school events for the parents so I wanted to have things figured out so I could spend less time worrying about how to get a healthy meal on the table and more time doing other fun things! I sat down with my favorite shared family planner and recipe/menu ideas and watch a little football (Go Texans!) with the family while doing my planning. Before I knew it, I had my menu planned and my grocery list ready for shopping this week. It takes some time upfront but the time saved in the grocery store and when dinner time rolls around are so worth it. If you'd like some tips on how to start meal planning, check out my post here.
I also took some time to make up two of our favorite breakfasts to save a little in the freezer. My Whole Wheat Banana Bread and Whole Wheat Buttermilk Biscuits are perfect to have on hand for those busy weekday mornings!
Now on to the weekly dinner menu plan! Here's what's on our menu this week:
Monday: Chicken Soft Tacos with Key Lime Corn (from Dream Dinners) with sliced avocados that are ripe on my counter
Tuesday: New wild rice salad recipe with ham–recipe testing!
Wednesday: Homemade pizza night –make your own and BBQ chicken pizza (I have the BBQ chicken mix that I made for one of my freezer cooking sessions)
Thursday: Big Kahuna Burgers with pineapple salsa (from Dream Dinners), baked french fries and side salad
Friday: Leftovers
Saturday: Homemade chicken and cabbage potstickers with steamed rice and edamame (maybe) or out to eat
Sunday: Homemade Tomato Basil Parmesan Soup with grilled cheese paninis
What's on your menu plan this week?
Sprouts Farmers Market
A couple of weeks ago I had the fun opportunity to attend a media event at the newest Sprouts Farmers Market store grand opening in Pearland, Texas! I met up with a couple of other bloggers and we not only got a tour of the new store but we got to participate in a fun smoothie challenge. We were quizzed by one of their staff registered dietitians about all kinds of healthy ingredients–some were new to me–and then had five minutes to come up with a delicious and nutritious smoothie. The one twist was that in our quizzing, certain ingredients were taken away from us so that presented even more of a challenge. It was a lot of fun and Earthbound Farm included a lot of the ingredients for the smoothies!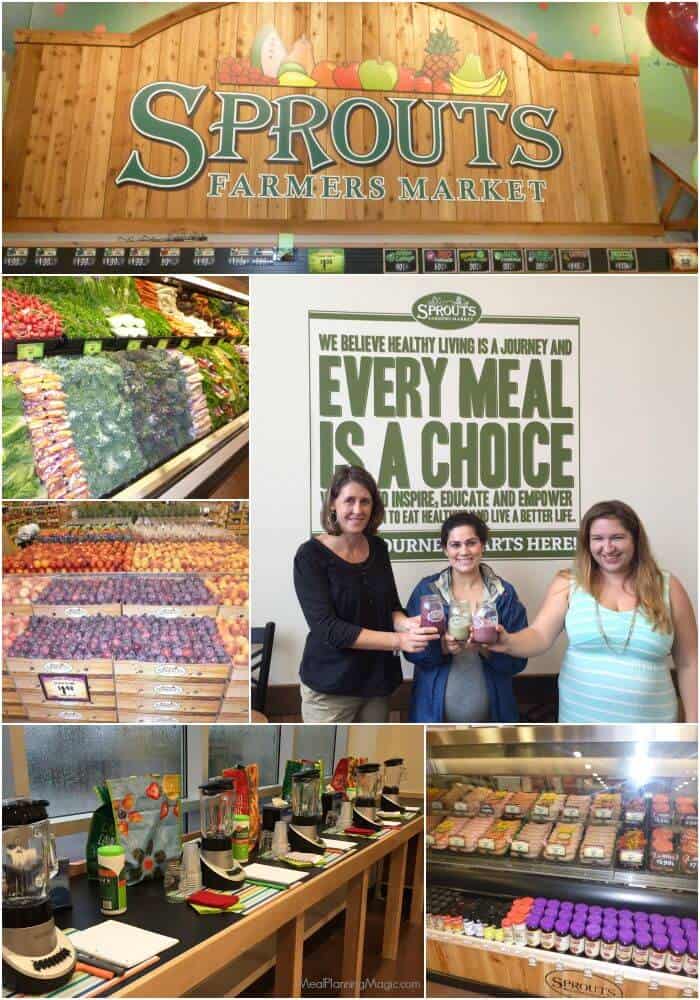 My family LOVES Sprouts because they have great prices on their produce (did you know 20% of their store is fresh produce? That's way higher than conventional grocery stores) and other natural foods. They also have one of the largest supplements departments around. We love their bulk food section too and you can get basic ingredients for you recipes as well as some sweet treats too. At their newest location, they are opening a fresh deli counter where you can order sandwiches and other fresh-prepared foods to go. They have a huge meat department too and offer over a dozen different house-made sausages. We really like the chicken and jalapeno sausage for something different for breakfast on the weekends! You can real all about Sprouts and more things that I love about them in my review here from when they first came to the Houston area. They have stores mainly in the west and southwest part of the country so find your local store by using their store locator. Sprouts Farmers Markets offer a great way to eat healthier on a budget! Do you have a Sprouts Farmers Market near you? What do you love about them?