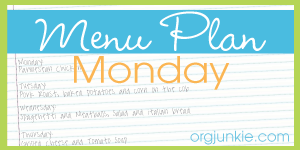 I'm not sure about you, but those Monday holidays tend to throw me off for a couple of weeks. Last week's Labor Day holiday has this week full of extra activities that should have started on the first Monday of the month starting today! I'ma lso bringing a meal to a friend this week who is battling breast cancer. She has been a real trooper though it all and I'm  planning to bring some good old comfort food–made a bit healthier–for her and her family to enjoy.
Here's what's on our menu this week:
Monday: Stuffed Shells with Tomato Sauce and Chile Lime Scallops (choice–not served together!) freezer meal from Dream Dinners; garden salad
Tuesday: Homemade Chicken Pot Pie, garden salad and homemade strawberry cake (for our friend–made by my daughter!) I'm making two pies–one for us and one for our friend.
Wednesday: Shrimp & crawfish poboy sandwiches with coleslaw. I'm trying out a new recipe that I'm sort of making up so will let you know how it goes if it is a success!
Thursday: Parmesan Pesto Salmon from Dream Dinners (again!); rice pilaf, steamed veggie
Friday: leftovers
Saturday: leftovers/out to eat
Sunday: TBA
We're still looking for braces friendly snacks that my daughter can take with her for in between school and after school practices. If you have any suggestions, I'd love to hear them! Have you checked out my Pinterest boards lately? near the top, you'll find boards to help with school breakfast, lunch and snacks–all areas I tend to find particularly challenging for some reason. Of course, there are many more boards to peruse while you're there!
If you're in the Houston area, be sure to tune in on Tuesday, September 10th at 4:55 p.m. CST or Wednesday, September 11th at about 5:45 a.m. for ABC13's Stretch Your Dollar segment where I'll be sharing tips on how to make your own mixes like taco seasoning, ranch dressing and brownie mix for on average, 50% less than what you buy in the store prepackaged! The extra bonus to making mixes yourself? You know exactly what's going in there and unlike the prepackaged varieties, you can actually pronounce everything that's in there!
What's on your menu this week? Share with me in the comments below!