This post may contain affiliate links. Please read my disclosure policy.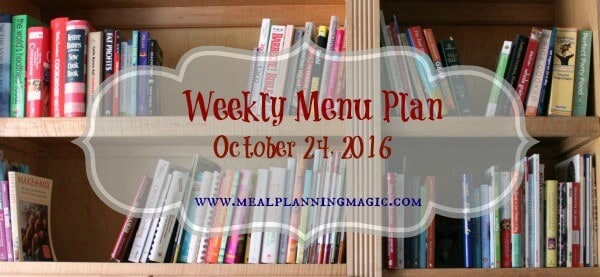 How are we at the last week of October? I'm thinking these 80 and 90 degree temperatures in our part of Texas are keeping me from remembering that it's fall! I've mentioned before that my daughter is in the marching band and this week is crunch week with competitions. Our football team won state last year so that meant the band was also at every game until the week before Christmas! That was a super fun year but we're looking forward to this year where it looks unlikely our team will make it into the playoffs and that means football and marching season is over in a couple weeks. They've been practicing since the first week of August–every day then and four times a week during the school year. She enjoys it but we always look forward to the break! So, being that band is so busy this week and I am helping with chaperoning, our meal plan is pretty simple this week because I'm relying on some freezer meals to get us through it and still have our meals at home. We have dinner together most nights even though they might be a little later than other times of the year.
So, this is our Weekly Menu Plan for this week:
Monday: Thai Peanut Chicken with Rice (from Dream Dinners) and Beef Fried Rice with sugar snap peas on the side
Tuesday: special activity–YOYO (you're on your own)
Wednesday: Tuna Rollups with Creamy Mushroom Gravy
Thursday: Turkey Florentine Burgers with garden salad
Friday: Leftovers
Saturday: Special activity–out to eat!
Sunday: Buffalo Chicken Sliders
What's on your meal plan this week?
Don't Miss Out!
Don't miss out on all kinds of updates from Meal Planning Magic! Be sure to SIGN UP HERE to receive updates via email or RSS feed (you can choose which you prefer or choose to receive both!) And don't forget you can always follow me on Facebook, Twitter, Pinterest or Instagram. They all offer a little something different and are a great way to stay in the loop on new menu plans, recipe ideas, giveaways, organizing tips and more!