This post may contain affiliate links. Please read my disclosure policy.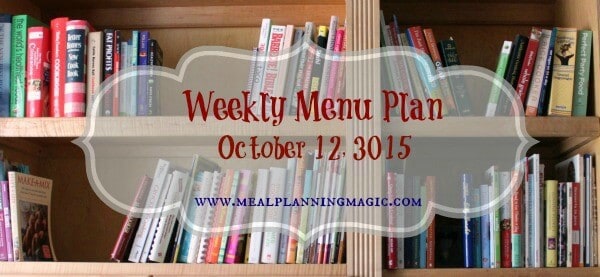 I think I've mentioned that my daughter is in the marching band this year and wow, do these kids have a busy schedule! October is competition month on top of the football games they play at each week so they are busy, busy with lots of practices, football games and competitions on the weekends. That means lots of carpooling and shuttling kids back and forth for us parents! My son has also started swimming again (it's still relatively warm in Texas but the place he swims at is also indoors part of the fall!) so our evenings have gotten a whole lot busier. That's why I'm so glad to have my menu plans figured out–takes one less thing off my mind at the end of our busy days. This week's menu plan is filled with a few handy freezer meals, a simple weeknight supper I'm recipe testing and an old favorite I've been making for years. So here goes:
Weekly Menu Plan
Monday: Seafood Cioppino Soup and baked fish (both from the freezer) and garden salad
Tuesday: Carne Asada Tacos with Maple Chipotle Corn (both from Dream Dinners) and sliced avocados
Wednesday: Steak and Onion Sandwich (new recipe–to come to the blog soon!) and side salad
Thursday: Tuna Rollups with Creamy Mushroom Gravy and salad
Friday: Leftovers
Saturday: Busy day–dinner TBD!
Sunday: Buffalo Chicken Cavatappi Pasta (from Dream Dinners) and garden salad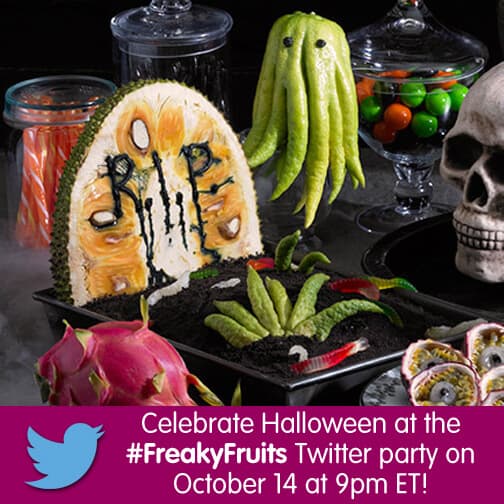 Join Me for the #FreakyFruits Twitter Party on Wednesday!
This Wednesday, October 14th at 9 pm EST, I'll be co-hosting a fun Twitter party along with Melissa's Produce and Produce for Kids. We'll be talking fun, freaky fruits and also sharing fresh recipe ideas and tips for a healthier Halloween! Melissa's Produce will be giving away four prize packs to four lucky Twitter party participants. RSVP by following this link or join the conversation on Twitter on Wednesday using #FreakyFruits! Hope to see you there!