This post may contain affiliate links. Please read my disclosure policy.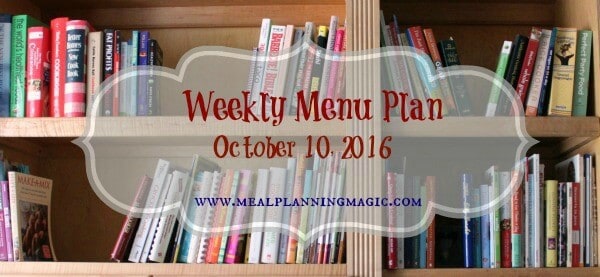 Well, last week I cooked almost every meal from scratch and while they were simple meals, I'm taking this week "off" a bit and going back to my freezer meals. My daughter even asked me why I was cooking so much–ha! The good news is I got photos of many of the meals I made so I'll be adding them to the queue of future blog posts. Be sure to subscribe to my blog so you don't miss a new recipe or other tips! (see info. on how to do that at the end of this post). This week is filled with late afternoon orthodontist appointments and a Thursday instead of Friday high school football game (my daughter is in the marching band!) so I welcome the easy meals already prepped for cooking that are waiting for me in the freezer!
Weekly Menu Plan
Monday: Slowcooker Homemade Spaghetti Sauce with sausage and garden salad
Tuesday: Baked Potato Chicken (from Dream Dinners) plus garden salad
Wednesday: Cheddar Filled Mini Meatloaves with potato pancakes and garden salad
Thursday: YOYO (you're on your own) — will probably do leftovers or something easy like sandwiches since we have the football game we may go to this evening
Friday: Leftovers
Saturday: Special activity-no cooking for me!
Sunday: Oven Baked Chimichangas with Chipotle Lime Corn salad (trying a new recipe)
What's on your menu plan this week?
Don't Miss Out!
Don't miss out on all kinds of updates from Meal Planning Magic! Be sure to SIGN UP HERE to receive updates via email or RSS feed (you can choose which you prefer or choose to receive both!) And don't forget you can always follow me on Facebook, Twitter, Pinterest or Instagram. They all offer a little something different and are a great way to stay in the loop on new menu plans, recipe ideas, giveaways, organizing tips and more!