This post may contain affiliate links. Please read my disclosure policy.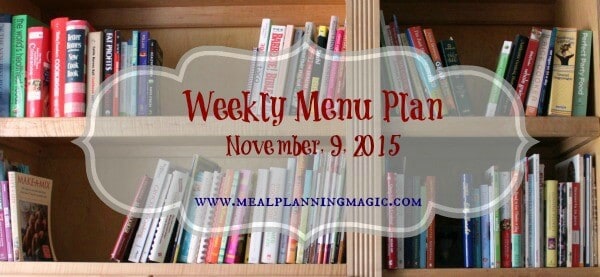 Just when I thought that only if I could get through our busy weekend hosting company and going to lots of different activities, this week is shaping up to be another busy one with some new company coming to visit and meeting up with old friends. I've had to switch around some of my menu plans to adjust and that's ok. That's what I like about meal planning–it gives you a framework for the basic plan but allows some flexibility to change things up if you need to. Last week I mentioned we were going to have chili and chicken enchiladas. The chili got put on hold and will go into a freezer meal kit to make another day (blog post to explain will be coming!) and the chicken enchiladas got postponed until this week since we ended up with more leftovers than I expected and I needed the fridge cleaned out!
So this week's menu plan will see a repeat (the enchiladas) and a few simple ideas too. So here goes!
Weekly Menu Plan
Monday: Outlaw Chicken Sliders with baked parmesan fries from Dream Dinners and roasted root vegetables (random combination but I found the root vegetables at Coscto and wanted to try them out!)
Tuesday: Easy Homemade Tomato Basil Parmesan Soup with Grilled Cheese Sandwiches Or Paninis (each person will assemble and make their own)
Wednesday: New recipe for Slowcooker Hot & Sour Soup with spring rolls (buying those from a local restaurant). If the soup turns out well, I will share the recipe on my blog at some point.
Thursday: Chicken Enchiladas (new recipe) with sliced avocados
Friday: Leftovers
Saturday: Leftovers
Sunday: TBA — we'll be at an activity much of the day so will have to wing it with dinner. May do something easy from the freezer.
What's on your menu plan this week?
Don't Miss Out!
Don't miss out on all kinds of updates from Meal Planning Magic! Be sure to SIGN UP HERE to receive updates via email or RSS feed (you can choose which you prefer or choose to receive both!) And don't forget you can always follow me on Facebook, Twitter, Pinterest or Instagram. They all offer a little something different and are a great way to stay in the loop on new menu plans, recipe ideas, giveaways, organizing tips and more!