This post may contain affiliate links. Please read my disclosure policy.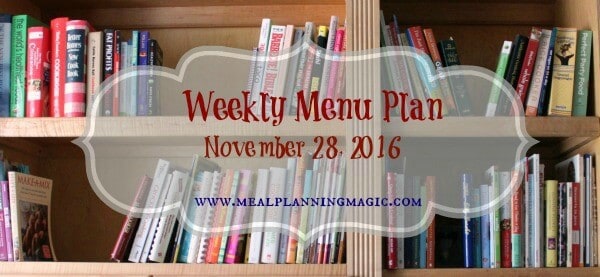 I hope everyone had a nice Thanksgiving! I skipped my Weekly Menu Plan last week since we were going to be traveling and had a short week of meal preparation. Plus, Thursday was the big day and we would be having traditional Thanksgiving fare. This week I'm making a variety of meals Plus, we got a bonus meal from our neighbor of gumbo! He only asked that I baked some cookies in return so who can refuse that deal! I love our new neighbors–one of them loves to grill and make classic Southern comfort food. Another one has a large smoker in his backyard and smokes just about everything! Have you ever had homemade smoked cheese? So yummy! I'm the baker in the group so I'm happy to share the love and that way we all get what we want making what we like and share the extras.
Now on to this week's Weekly Menu Plan
Monday: Country Seafood and Chicken Gumbo served over steamed rice (from our neighbor!) and a garden salad
Tuesday: Chicken Rice and Black Bean Tortilla Soup and garden salad. I'm substituting the chicken with leftover Thanksgiving turkey. This is one of our favorite soups!
Wednesday: Swiss Beef Sliders on Mini Pretzel Buns with sliced carrots and sugar snap peas on side
Thursday: Outlaw Marinara Chicken (from Dream Dinners) with garden salad
Friday: Leftovers
Saturday: Special activity–out to eat today
Sunday: TBA Not totally sure of our plans so I'm leaving this up in the air.
CHANGES ARE COMING!
After the start of the new year, I'll be transitioning this Weekly Menu Plan and similar content into a new newsletter I'm starting called Monday Magic. There are lots of reasons but you'll still be able receive weekly recipe ideas and inspiration–it will just be in a different format! I'm thinking about doing a monthly menu plan post on my blog instead so that you'll be able to access the same recipe ideas and inspiration on my website but I'll be able to more regularly share additional content like new recipes or time and money saving tips on my website.
If you're not already signed up on my email list, you can CLICK HERE TO SIGN UP. Be sure to choose the Monday Magic Weekly Email Newsletter if you want to keep seeing weekly menu plans. If you want to receive an email every time a new post is published on my blog, you can also choose the RSS Email. You can definitely choose both too!
Also included in that Monday Magic newsletter will be content I discover around the web each week that I think you might enjoy. I'll also share a little bit more about me–what I'm reading, watching or listening to to let you know that I'm about more than just meal planning! I hope to "see" lots more of you there!
Don't Miss Out!
Don't miss out on all kinds of updates from Meal Planning Magic! Be sure to SIGN UP HERE to receive updates via email or RSS feed (you can choose which you prefer or choose to receive both!) And don't forget you can always follow me on Facebook, Twitter, Pinterest or Instagram. They all offer a little something different and are a great way to stay in the loop on new menu plans, recipe ideas, giveaways, organizing tips and more!