This post may contain affiliate links. Please read my disclosure policy.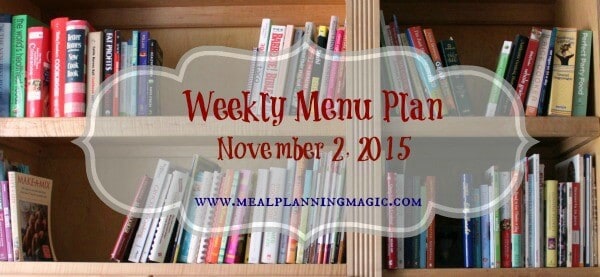 Y'all, it's November! My head can't quite wrap itself around that yet. Maybe it has to do with the fact that the high temperatures are still in the 80s most days here in our part of southeast Texas. At least the lows are getting cooler–upper 50s this week.
We've got a crazy busy end of the week and weekend this week and some preparations related to those activities, so I'm relying a lot on freezer meals this week. I am managing to squeeze in a new recipe to try but that's because it's a make-ahead recipe that I can make in parts the day before. (It's from one of those softcover magazine/books–want to find out how I keep track of those recipes? Check this post here.)
My daughter hopped on Pinterest again this weekend and found some new lunchbox recipes she wants to try. She adapted a recipe for pepperoni pinwheels that she found and made it last night to bring today. We'll see how they were once she got to school (thankfully, now in high school, they have microwaves to reheat food in). She's got a grocery list of other ingredients for other recipes she has in mind so hopefully she'll find some winners!
Ok, now on to this the weekly menu plan for dinners:
Weekly Menu Plan
Monday: Cranberry Buttermilk Chicken with Roasted Broccoli (from Dream Dinners) and Garlic Orzo pilaf
Tuesday: Loaded baked potato and chicken soup (one of our favorites from Dream Dinners but I also like to make a version of this slowcooker recipe too) with garlic breadsticks and garden salad
Wednesday: Chicken Enchiladas (trying a new recipe) with garden salad
Thursday: Sesame Ginger Salmon with rice pilaf and snow peas
Friday: All-American Chili with salad
Saturday: Baked potato bar with all the fixins and chili (from yesterday) topping and pulled pork barbecue topping options (plan to just get something from Costco for that)
Sunday: Leftovers–we should have plenty!
What's on your menu plan this week?
Don't Miss Out!
Don't miss out on all kinds of updates from Meal Planning Magic! Be sure to SIGN UP HERE to receive updates via email or RSS feed (you can choose which you prefer or choose to receive both!) And don't forget you can always follow me on Facebook, Twitter, Pinterest or Instagram. They all offer a little something different and are a great way to stay in the loop on new menu plans, recipe ideas, giveaways, organizing tips and more!