This post may contain affiliate links. Please read my disclosure policy.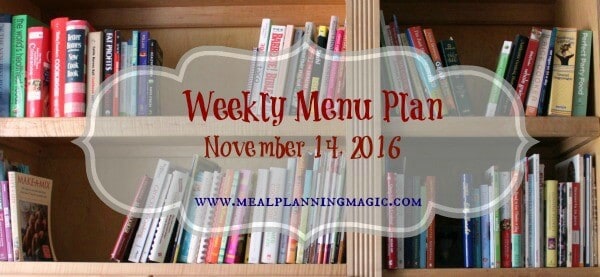 Weekly Menu Plan
This week I'm keeping things semi-simple meal wise and using up what's already in my freezer from Dream Dinners! This week is filled with extra meetings and activities so I need to have some simple go-to recipes to get dinner to the table more quickly. Here goes:
Monday: Cattleman's Pie with garden salad
Tuesday: Chicken Avignon (similar to this recipe) with mashed potatoes and roasted broccoli
Wednesday: White Chicken Chili (similar to this recipe on Pinterest) with Cornbread cakes and garden salad
Thursday: Turkey Florentine Burgers (similar to this recipe) on Pretzel Buns with carrot sticks
Friday: Leftovers
Saturday: TBA
Sunday: TBA
What's on your meal plan this week?
CHANGES ARE COMING!
After the start of the new year, I'll be transitioning this Weekly Menu Plan and similar content into a new newsletter I'm starting called Monday Magic. There are lots of reasons but you'll still be able receive weekly recipe ideas and inspiration–it will just be in a different format! I'm thinking about doing a monthly menu plan post on my blog instead so that you'll be able to access the same recipe ideas and inspiration on my website but I'll be able to more regularly share additional content like new recipes or time and money saving tips on my website.
If you're not already signed up on my email list, you can CLICK HERE TO SIGN UP. Be sure to choose the Monday Magic Weekly Email Newsletter if you want to keep seeing weekly menu plans. If you want to receive an email every time a new post is published on my blog, you can also choose the RSS Email. You can definitely choose both too!
Also included in that Monday Magic newsletter will be content I discover around the web each week that I think you might enjoy. I'll also share a little bit more about me–what I'm reading, watching or listening to to let you know that I'm about more than just meal planning! I hope to "see" lots more of you there!
Don't Miss Out!
Don't miss out on all kinds of updates from Meal Planning Magic! Be sure to SIGN UP HERE to receive updates via email or RSS feed (you can choose which you prefer or choose to receive both!) And don't forget you can always follow me on Facebook, Twitter, Pinterest or Instagram. They all offer a little something different and are a great way to stay in the loop on new menu plans, recipe ideas, giveaways, organizing tips and more!