This post may contain affiliate links. Please read my disclosure policy.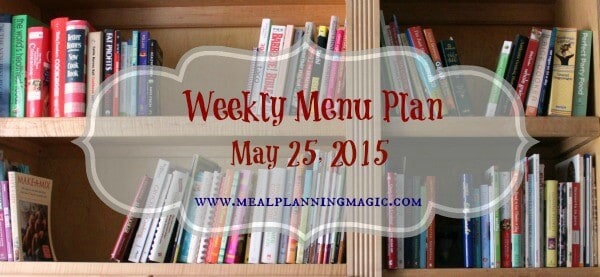 How did we get to the end of May? we have been enjoying so many different activities over the last few weeks and I am SO thankful for my weekly menu plan. It helps keep me sane during the week. This weekend I spend one afternoon cleaning out and reorganizing my pantry. It's great to do that every so often as it helps me figure out what items I still have on hand from recipes that never made it to the table. Thankfully, I don't have a whole lot to use up. Most of what's in my pantry are staples like flour and other baking goods, four different types of rice and things like that. I did discover that we have a bit of an issue with collecting different types of teas and hot cocoa mixes. I'm hoping to use up a lot of those and also create some homemade versions of those hot cocoa flavors that we do like. Look for those a little later this year when it's hot cocoa weather!
Now on to my weekly menu plan. Here goes:
Monday: Grilled beef & chicken fajitas and all the fixings–Memorial Day cookout party!
Tuesday: Porcupine meatballs, rice pilaf and garden salad
Wednesday: Slowcooker Chicken Enchilada Soup with sliced avocado. I'm planning to use up some of the chicken and avocados we have leftover from our cookout
Thursday: Open-faced Pizza Sloppy Joes and carrot sticks
Friday: Special activity–no cooking for me!
Saturday: Leftovers
Sunday: TBA–lots going on this day so I'm going to have to figure out the plan later in the week!
Don't Miss Out!
Don't miss out on all kinds of updates from Meal Planning Magic! Be sure to SIGN UP HERE to receive updates via email or RSS feed (you can choose which you prefer or choose to receive both!) And don't forget you can always follow me on Facebook, Twitter, Pinterest or Instagram. They all offer a little something different and are a great way to stay in the loop on new menu plans, recipe ideas, giveaways, organizing tips and more!