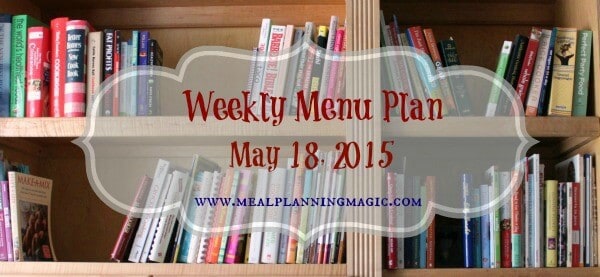 We're nearing the end of the school year and summer is just around the corner. I'm getting a bit more of summer-fever and feeling less like spending time in the kitchen and more time just relaxing and hanging out–when I can get it that is! My weekly menu plan for this week is a mixture of easy from the freezer, a slowcooker favorite and a night off from cooking because of a special event. So here goes:
Weekly Menu Plan
Monday: Meatloaf Milano with Mashed Potatoes (from Dream Dinners) and garden salad
Tuesday: Thai Seafood Soup AND Chicken Yakatori over steamed jasmine rice with edamame on the side (both of these meals are from Dream Dinners also but I can't remember if I'm the only one who likes the Thai Seafood Soup so am making both for the family and will have the leftovers of either for lunch)
Wednesday: Slowcooker Broccoli Beef over steamed brown rice. This recipe is one that I have pinned on Pinterest on my Winning Recipes Board and is so simple and delicious!
Thursday: Special activity with pizza night–no cooking for me!
Friday: Leftovers
Saturday: Leftovers/Out to Eat
Sunday: Some sort of cool summer soup from a new book I'm going to review at some point here!
h2>Don't Miss Out!
Don't miss out on all kinds of updates from Meal Planning Magic! Be sure to SIGN UP HERE to receive updates via email or RSS feed (you can choose which you prefer or choose to receive both!) And don't forget you can always follow me on Facebook, Twitter, Pinterest or Instagram. They all offer a little something different and are a great way to stay in the loop on new menu plans, recipe ideas, giveaways, organizing tips and more!