This post may contain affiliate links. Please read my disclosure policy.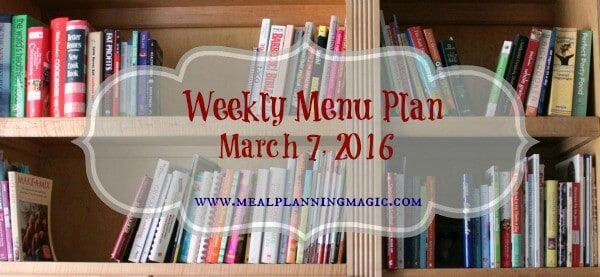 I am calling the last couple of weeks the calm before the storm. My kids start swim season this week so that means meal planning (and using my slow cooker and freezer meals) is key for my sanity. One of this week's recipes is from my Winning Recipes board on Pinterest. Be sure to check it out for more of the recipes I've found on Pinterest and tried and our family liked!
Monday: Slow Cooker Chicken soft tacos with all the fixins (peppers, chopped tomatoes, guacamole, cheese, sour cream, etc.) This is one of our favorite recipes and it's SO super easy!
Tuesday: Parmesan Chicken Sliders with side salad
Wednesday: Tomato Topped Fish (had to move this from last week to this week's menu plan) with rice pilaf and green beans
Thursday: Hero Meatball Bake (from Dream Dinners) with garden salad
Friday: Leftovers
Saturday: Pizza
Sunday: TBA–plans are up in the air!
What's on your weekly menu plan this week?
Don't Miss Out!
Don't miss out on all kinds of updates from Meal Planning Magic! Be sure to SIGN UP HERE to receive updates via email or RSS feed (you can choose which you prefer or choose to receive both!) And don't forget you can always follow me on Facebook, Twitter, Pinterest or Instagram. They all offer a little something different and are a great way to stay in the loop on new menu plans, recipe ideas, giveaways, organizing tips and more!