This post may contain affiliate links. Please read my disclosure policy.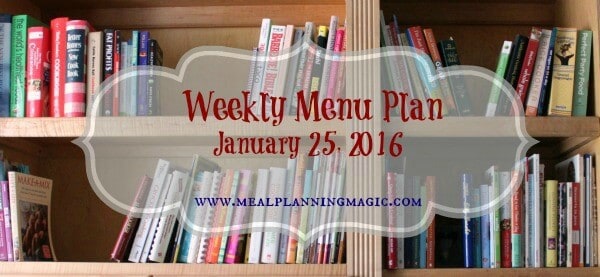 This week's menu plan continues another week of using up what we've got on hand. I did go to Dream Dinners last week but that is part of my monthly grocery budget so I knew that was part of the plan. We've got a few special occasions and evening meetings so dinner time will be a bit more challenging as far as eating together but that's what I love about making my weekly menu plan–I can work in meals that work with our schedule! So here goes:
Weekly Menu Plan
Monday: Tortilla crusted chicken with garlic mashed potatoes (from freezer) and garden salad. I'm using up an all-natural breading mix I received at a recent food blogger conference–I'll let you know if it's good!
Tuesday: New Recipe–Slowcooker sweet potato, corn and black bean tacos with guacamole and all the fixings. Part of our pledge to have at least one meatless meal a week.
Wednesday: Special occasion-out to eat
Thursday: Parmesan pork chops (from Dream Dinners) with roasted broccoli and roasted rosemary potatoes
Friday: Leftovers
Saturday: Leftovers or TBD (not sure what our schedule will be like this day)
Sunday: Canadian bacon and sausage French bread with garden salad
What's on your menu this week?
Don't Miss Out!
Don't miss out on all kinds of updates from Meal Planning Magic! Be sure to SIGN UP HERE to receive updates via email or RSS feed (you can choose which you prefer or choose to receive both!) And don't forget you can always follow me on Facebook, Twitter, Pinterest or Instagram. They all offer a little something different and are a great way to stay in the loop on new menu plans, recipe ideas, giveaways, organizing tips and more!