This post may contain affiliate links. Please read my disclosure policy.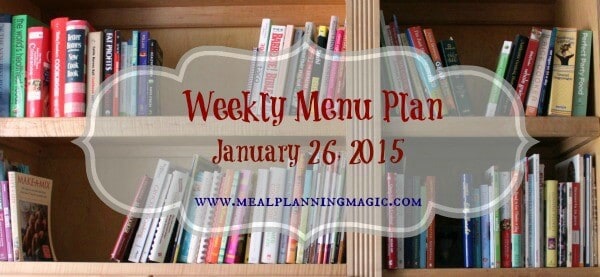 If you follow me on Facebook, you might have seen the picture I posted of my friend and I after a Dream Dinners session. That means our freezers are full and ready for busy weeknights (or weekends–I like to make them on Sundays often actually)! This week I cooking from the freezer with my Dream Dinners meals and some new recipes I'm trying so that I can use up some some ingredients that are already in the freezer. One of those is the Seafood Cioppino Stew which I had prepared by someone else a few months ago and we really liked it! I've got some fish leftover from another activity and I think this will be a perfect recipe to try and use some of that up. Better yet, it's made in the slowcooker so meal prep is a lot easier!
We've also got some special activities this week and weekend so that means someone else is doing the cooking and I get a night off! Love it when that happens!
Weekly Menu Plan
Here's what's on our dinner menu this week:
Monday: Meatball Marinara Stuffed bread (from freezer-Dream Dinners) and a garden salad
Tuesday: Greek Chicken with Lemon Feta (from Dream Dinners), rice pilaf and sugar snap peas
Wednesday: Special outing–no cooking for me!
Thursday: Slowcooker Seafood Cioppino Stew with homemade bread (in bread machine–trying a new recipe) and a garden salad
Friday: Leftovers
Saturday: Special outing–no cooking for me!
Sunday: Grilled Maple Ginger Pork Tenderloin with Garlic Mashed Potatoes and some sort of veggie
What's for dinner at your house this week?
Tailgating & Football Themed Recipe Ideas
The Super Bowl is on Sunday and if you're planning a get together with friends, need to bring something or just enjoying the game at home, my Tailgatin' Pinterest board is full of inspiration! Check it out by clicking the link or picture below!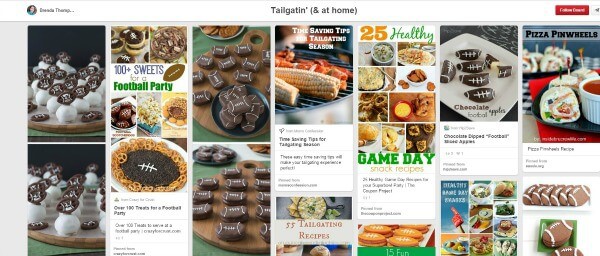 Don't Miss Out!
Don't miss out on all kinds of updates from Meal Planning Magic! Be sure to SIGN UP HERE to receive updates via email or RSS feed (you can choose which you prefer or choose to receive both!) And don't forget you can always follow me on Facebook, Twitter, Pinterest or Instagram. They all offer a little something different and are a great way to stay in the loop on new menu plans, recipe ideas, giveaways, organizing tips and more!
Make it a great week!