This post may contain affiliate links. Please read my disclosure policy.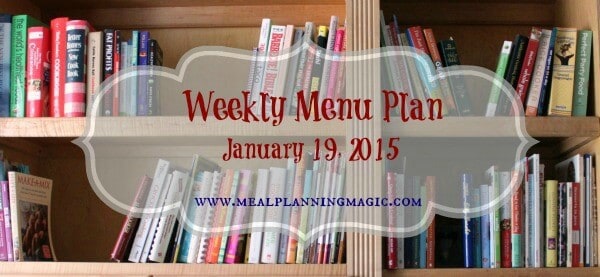 One nice thing about having an extra freezer is that I can make ahead a lot of meals and have them ready to thaw out for busy weeknights. This is nothing new if you've been reading my blog for awhile now. But the downside is that it's also really easy just to throw leftovers in there and let them get forgotten about until the freezer is packed full. Despite my best efforts to keep a Freezer Inventory, my freezer is full and I need to clean it out so I can make room for new deals I find on groceries and new flavors I discover. So this week's Weekly Menu Plan is going to do just that. I've got a pretty busy week all around with meetings and other things going on in the evenings, so minimizing my time at the grocery store by focusing on just fresh fruits and vegetables and things like milk, will be a big timesaver too.
I'm also going to try and make a few more smoothies using some of the frozen fruit we've got in there. I'll be checking my Pinterest Beverages board for some inspiration! I'm on the continual search for new breakfast ideas and I'm really on an oatmeal kick right now. I like to add a little brown sugar, milk and some sliced bananas to mine these days. What do you like on your oatmeal?
Now on to this week's Weekly Menu Plan–here's what we're having for dinner!
Monday: Homemade Chicken Pot Pie and garden salad
Tuesday: Baked Chicken Scampi (chicken cut up using scampi spice blend) served over rice and with a side of veggies (not sure what yet)
Wednesday: Slowcooker Broccoli Beef over steamed brown rice (had this on last week's menu plan but it just didn't happen due to a change in plans)
Thursday: Grilled Caesar Marinated Chicken over salad greens, crusty bread for side
Friday: Gorgonzola Cheese Burgers with Sweet Potato Fries (from Dream Dinners) and veggie of some kind
Saturday: Leftovers
Sunday: Crockpot Split Pea Soup (using up a ham bone from freezer) and I'm going to try making homemade whole wheat bread of some kind
What's on your menu plan for this week?