This post may contain affiliate links. Please read my disclosure policy.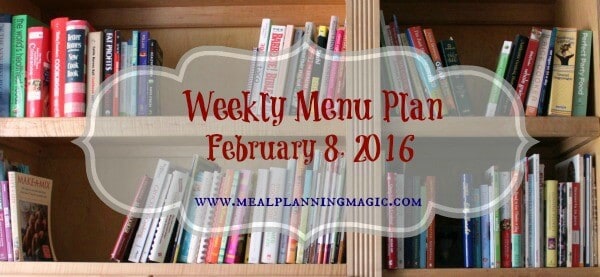 This week is shaping up to be another busy one with lots of appointments and meetings again. Seems it's this way the last week and first week of the month for me. Thank goodness for my weekly menu plan that helps me bring a little sanity to our week. At least it's one less thing I need to think about! I'm taking advantage of simple recipes, freezer meals and my slowcooker and just adding some simple sides to create some healthier dinners for my family. We're keeping up pretty well with our culinary resolutions to include a meatless meal each week and also more vegetables at every dinner. My kids are asking why we are having so many more salads these days so they're noticing the change too!
How are you doing on your menu planning? If you need some tips or ideas, be sure to check out my How To Meal Plan post for inspiration! Now on to my plan for this week!
Weekly Menu Plan
Monday: Homemade Tomato Basil Soup with Parmesan and grilled cheese sandwiches with a small garden salad. I bumped this from our Sunday menu yesterday because I wasn't feeling well so we ended up just using up some Dream Dinners I had in the freezer. So easy and everyone loved them!
Tuesday: Georgia Peach Pork Chops (from Dream Dinners), mashed potatoes and a new coleslaw recipe I'm trying.
Wednesday: Greek Chicken with Lemon & Feta, sauteed green beans and toasted orzo
Thursday: Crockpot Lasagna Soup with garden salad
Friday: Leftovers
Saturday: Special occasion–out to eat!
Sunday: Valentine's Day–menu still be determined but we have a tradition of Chinese food so it will at least include that! I'm also hoping to do something fun using one or two of the ideas from my Valentine's Day Food Pinterest board.
What's on your weekly menu plan this week?
Don't Miss Out!
Don't miss out on all kinds of updates from Meal Planning Magic! Be sure to SIGN UP HERE to receive updates via email or RSS feed (you can choose which you prefer or choose to receive both!) And don't forget you can always follow me on Facebook, Twitter, Pinterest or Instagram. They all offer a little something different and are a great way to stay in the loop on new menu plans, recipe ideas, giveaways, organizing tips and more!