This post may contain affiliate links. Please read my disclosure policy.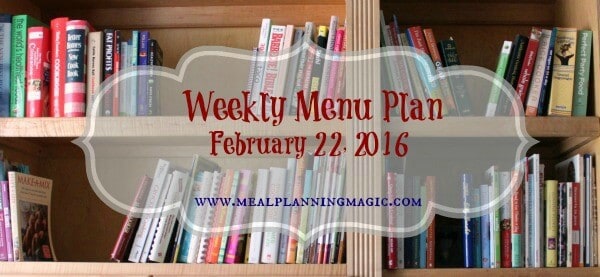 This week is a bit more calm than some and I'm taking advantage of it by making some new recipes. If they turn out well, I'll take some photos and hopefully share them on the blog at some point! This past weekend I was busy making some other goodies too that you'll be seeing on the blog in the coming weeks so be sure you're subscribed to my email list and social media accounts (find the links at the bottom of this post). Now on to this week's weekly menu plan!
Here's what we're having for dinner this week:
Monday: Terracotta chicken with pita and hummus (from Dream Dinners) and sliced carrots
Tuesday: Bruschetta chicken skillet (testing new recipe!) with toasted orzo and green beans
Wednesday: Ground turkey & clam pasta sauce over linguine (a family favorite but I've never taken a picture so I hope to do that!) with garden salad
Thursday: Simmered Chinese chicken over steamed rice (from Dream Dinners) with edamame
Friday: Leftovers
Saturday: special activity-no cooking for me
Sunday: Slowcooker homemade spaghetti sauce to serve with Italian turkey sausage, peppers and onion sandwiches
What's on your menu plan this week?
Don't Miss Out!
Don't miss out on all kinds of updates from Meal Planning Magic! Be sure to SIGN UP HERE to receive updates via email or RSS feed (you can choose which you prefer or choose to receive both!) And don't forget you can always follow me on Facebook, Twitter, Pinterest or Instagram. They all offer a little something different and are a great way to stay in the loop on new menu plans, recipe ideas, giveaways, organizing tips and more!