This post may contain affiliate links. Please read my disclosure policy.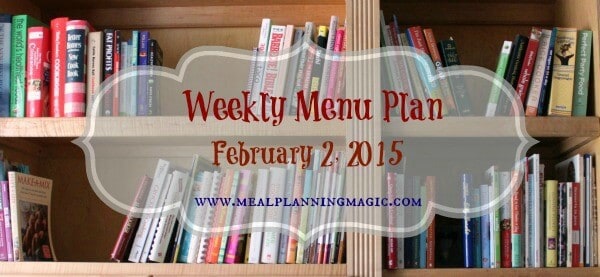 Last week I reorganized my deep freezer a bit so have an all new inventory to help me with my meal planning. (Find tips on how to organize your freezer by clicking here Find tips on how to start meal planning by clicking here). I think I'm getting close to being able to meal plan for the month again. Now, remember, even when I plan for the month, I review my plans each week to make sure it will all still work and make modifications where necessary. And sometimes even those plans go awry when something else comes up on the calendar that wasn't there earlier in the week. That's what happened to us last week so you'll see a repeat or two of some dinner ideas that you may have seen the last couple of weeks. Since a couple of them were to use up ingredients already in the freezer, I just shifted them to a different day for this week. Even this week is shaping up to be a busy one, so I've included a few slowcooker meals into the mix. One of my favorite ways to get a homemade meal to the table with less stress at dinnertime!
Weekly Menu Plan
So, here's what's on the menu plan for this week:
Monday: Crockpot Lasagna Soup and garden salad. This recipe is modified from one I found on Pinterest and have made often but I've changed a few things. I'm taking pictures so I can share my version with you sometime here on the blog!
Tuesday: Grilled Maple Pork Tenderloin with Garlic Herb Mashed Potatoes (both from the freezer) and roasted broccoli
Wednesday: Homemade Parmesan herb chicken nuggets with roast garlic potato fries and green beans
Thursday: Slowcooker Beef & Broccoli over brown rice
Friday: Leftovers
Saturday: Out to Eat/TBA (plans are still sort of up in the air)
Sunday: Greek Chicken with Lemon Feta, rice pilaf and garden salad
What's on your dinner menu plan for this week?
We're working on adding some more variety to our breakfasts and lunches–a regular challenge in our house since I have one child who doesn't really like breakfast at all and another who could eat peanut butter and jelly sandwiches every day for the rest of his life I think! Do you have any tips for dealing with these meal challenges? My Pinterest boards are a good source of inspiration for sure!
Don't Miss Out!
Don't miss out on all kinds of updates from Meal Planning Magic! Be sure to SIGN UP HERE to receive updates via email or RSS feed (you can choose which you prefer or choose to receive both!) And don't forget you can always follow me on Facebook, Twitter, Pinterest or Instagram. They all offer a little something different and are a great way to stay in the loop on new menu plans, recipe ideas, giveaways, organizing tips and more!