This post may contain affiliate links. Please read my disclosure policy.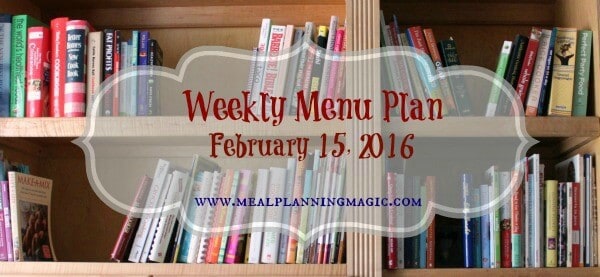 Do you ever have those days (or weeks) where you just don't feel like thinking about what's for dinner much less making it? Sometimes I do and that's why this week is a clean-out-the freezer week for me for dinnertime. I'll add fresh sides like salad or vegetables, but for the most part it's all coming from the freezer! It's so easy to have freezer meals to turn to because usually I just need to heat and eat. Not sure where to start? A few months ago, I did a roundup review of some of my favorite freezer cookbooks (check it out here). They are a great place to get recipe ideas and also hints and tips for making your freezer cooking day a success. You can also check out my Freezer Friendly board on Pinterest or even start your own freezer meal exchange group. Having meals in the freezer is so nice on those nights you don't feel like cooking but are a much healthier and (usually) less expensive option to fast food or dining out!
Now on to this week's dinner menu. Here's what's on my weekly menu plan for this week:
Monday: Oven Baked Chimichangas and Salsa Verde Steak Tacos-both from Dream Dinners (combination of meals because an out of town friend is stopping by for dinner), with sliced avocado and homemade Mexican rice.
Tuesday: Chicken Pizzaiola (similar to this recipe) and a garden salad
Wednesday: Fish Tacos
Thursday: Parmesan Chicken Sliders and sliced carrots
Friday: Leftovers
Saturday: Special occasion–dinner TBA
Sunday: Leftovers
What's on your menu plan this week?
Don't Miss Out!
Don't miss out on all kinds of updates from Meal Planning Magic! Be sure to SIGN UP HERE to receive updates via email or RSS feed (you can choose which you prefer or choose to receive both!) And don't forget you can always follow me on Facebook, Twitter, Pinterest or Instagram. They all offer a little something different and are a great way to stay in the loop on new menu plans, recipe ideas, giveaways, organizing tips and more!