This post may contain affiliate links. Please read my disclosure policy.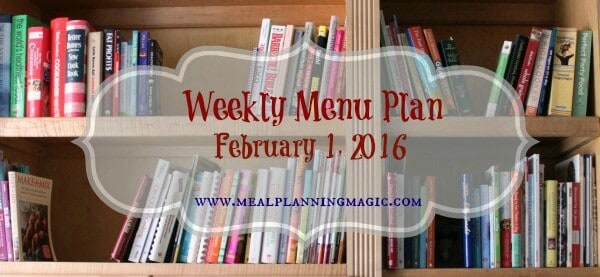 What's great about having a meal plan? Well, when your plans go awry for a few days, you know you at least have some days you can count on to keep your budget and sanity on track. That's what happened to me last week…I had a plan but we had some last minute company come stay with us. It worked out because I could easily shift gears and just get what I needed for the weekend and ended up having enough leftovers that it will help me with my meal plan for this week.
This week is filled with lots of practices, meetings and appointments so having my weekly menu plan set to work around our extra busy schedule is key to helping us stay on track. Later this week, I'm bringing a meal to a friend that just had surgery so I'll make double that so we can have our dinner covered too. Here's what's on our dinner menu plan for this week:
Monday: Crab Creole (family recipe–if it turns out, I will try to take pictures and post on the blog at some point!) with garden salad
Tuesday: Tortellini Al Forno (vegetarian) from Dream Dinners with garden salad
Wednesday: Central Park Garlic Chicken with Mandarin Orange Salad and Roasted Rosemary Potatoes
Thursday: Leftovers
Friday: Homemade Chicken Pot Pie and garden salad
Saturday: Leftovers
Sunday: Homemade Tomato Basil Soup and Buffalo Chicken Cavatappi pasta (from Dream Dinners) and garden salad. Kind of a random combination but we'll be watching the Super Bowl and the tomato soup is a tradition and the buffalo chicken is a new addition that my family loves–it seems just right for game day, don't you think?
What's on your weekly menu plan this week?
Don't Miss Out!
Don't miss out on all kinds of updates from Meal Planning Magic! Be sure to SIGN UP HERE to receive updates via email or RSS feed (you can choose which you prefer or choose to receive both!) And don't forget you can always follow me on Facebook, Twitter, Pinterest or Instagram. They all offer a little something different and are a great way to stay in the loop on new menu plans, recipe ideas, giveaways, organizing tips and more!