This post may contain affiliate links. Please read my disclosure policy.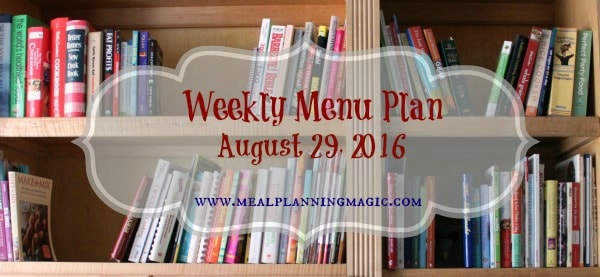 Well, I thought we might be able to ease into the start of the school year, but I'm starting to think now that's not going to happen! We've hit the ground running and being organized at meal time is key! I wouldn't say anything is that much busier than in years past, we were just having a good time with our laid back summer schedule!
I'm relying pretty heavily on freezer meals this week mainly because my freezer is so full I need to start using up some of what we've got! At some point, I'm hoping to write up a post on how you can create your own freezer meal kits but in the meantime, maybe Starting Your Own Freezer Meal Exchange Group may be something you'd like to do if you don't have a Dream Dinners location near you (or you just want to do it yourself). It's a great way to get a little organized for meal times and that's a good thing!
We also did pretty well with meal planning for school lunchboxes this week. My son took a BLT wrap some days and my daughter took leftovers from last week's meals most days. I know we'll be trying lots of the recipe ideas from the #PowerYourLunchbox site too (and since we took the pledge, we're helping hungry families too!)
Ok, now on to this week's dinner plan! Here's what's on our menu this week:
Monday: Pub Style Chicken (from Dream Dinners) with almond green beans and roasted rosemary potatoes
Tuesday: Loaded BBQ Pulled Pork Bites from Dream Dinners with carrot sticks and bell pepper strips
Wednesday: Thai Style Shrimp Soup over Rice and fish tacos with coleslaw
Thursday: Central Park Chicken (from Dream Dinners) with roasted brussels sprouts and wild rice pilaf
Friday: Leftovers
Saturday: Paella (didn't get made last week so I'm going to try again this week)
Sunday: Spanish Rice Skillet and salad (recipe to come for the skillet dish- I need to take photos!)
What's on your weekly menu plan this week?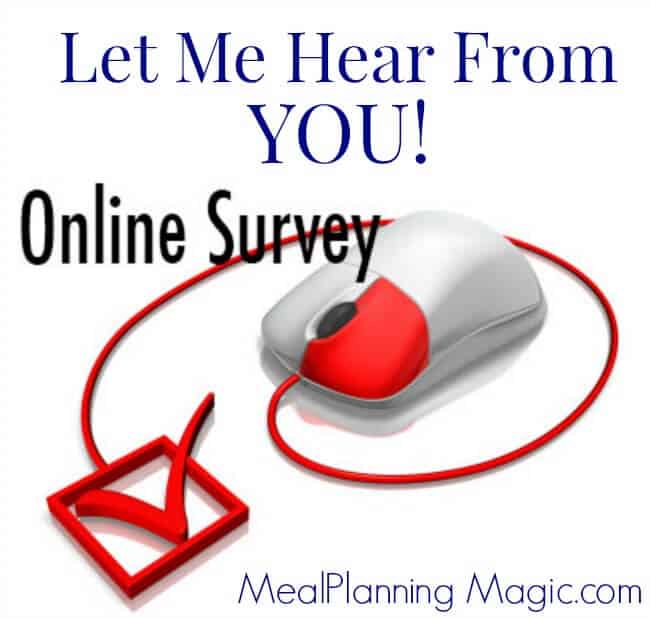 Whatcha Thinking?
Have you taken my Semi-Annual Reader Survey yet? There's still time and your input is invaluable to me! There are only 12 questions and it should only take you a few minutes. Take the survey here!
Don't Miss Out!
Don't miss out on all kinds of updates from Meal Planning Magic! Be sure to SIGN UP HERE to receive updates via email or RSS feed (you can choose which you prefer or choose to receive both!) And don't forget you can always follow me on Facebook, Twitter, Pinterest or Instagram. They all offer a little something different and are a great way to stay in the loop on new menu plans, recipe ideas, giveaways, organizing tips and more!