This post may contain affiliate links. Please read my disclosure policy.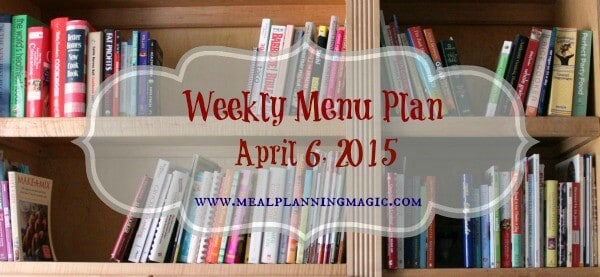 Woot! Woot! This week I'm not only delivering a new
Weekly Menu Plan
for you but an all new look to my blog! Take some time and poke around and let me know what you think! There are still some tweaks that I need to make on the back end (especially to images in my recipe index), but the major work is done. What's great is that this new look will also mean that it should be easier for you to view and navigate my site on your mobile devices too.
Now on to the mean plan. This week, my focus is on using up what's already on hand either in my pantry or freezer. Some of it has been there just way too long and I need the space, not to mention would like to have the lower grocery bills for just the basics. Here goes:
Weekly Menu Plan
Monday: Sesame Ginger Salmon, wild rice pilaf and sugar snap peas (all already on hand–the salmon is from Dream Dinners)
Tuesday: Homemade Chicken Noodle Soup. I've got everything on hand to make this soup including a couple of rotisserie chicken carcasses, and a bit of celery, onions and the last of a bag of carrots. I also bought some noodles a week or so ago when I found some kluski noodles-a favorite–at my local grocery store. Hadn't seen those in awhile! I'm going to try making this in the slowcooker this time.
Wednesday: Bourbon Flank Steak and garlic mashed potatoes casserole with side garden salad (all on hand in the freezer except the salad of course!)
Thursday: special outing–no cooking for me!
Friday: Leftovers
Saturday: special get together-no cooking for me!
Sunday: TBA–probably some sort of grilled panini sandwich and soup
What's on your menu this week?
Don't Miss Out!
Don't miss out on all kinds of updates from Meal Planning Magic! Be sure to SIGN UP HERE to receive updates via email or RSS feed (you can choose which you prefer or choose to receive both!) And don't forget you can always follow me on Facebook, Twitter, Pinterest or Instagram. They all offer a little something different and are a great way to stay in the loop on new menu plans, recipe ideas, giveaways, organizing tips and more!