This post may contain affiliate links. Please read my disclosure policy.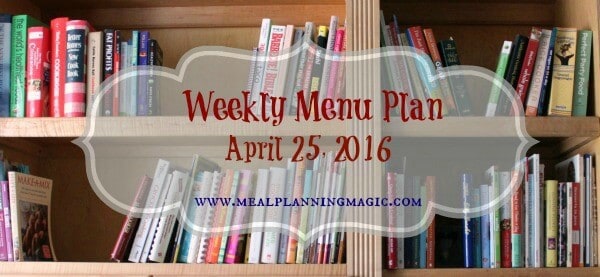 We're hosting company this week, I've got two evening meetings this week and I'm also the registrar for our swim team and we are holding evaluations this week so needless to say it's a convergence of busy times here in our house. That's why I'm kicking my slowcooker into high gear with three dinners this week. We're at a special school function another day this week so my weekly menu plan is such a lifesaver for those nights when we don't want to go out but still need to eat. I'm keeping things short and sweet this week so let's get right to it!
Weekly Menu Plan
Monday: Slowcooker Rootbeer Pulled Pork Sandwiches with coleslaw. The pulled port is a new-to-us recipe that I pinned on my Pinterest Slowcooker board–I'll let you know if it's good!
Tuesday: Slowcooker Turkey Barkley Vegetable Soup with crusty bread on the side
Wednesday: Slowcooker ham (did you know you can make ham in the slowcooker? It's awesome and SO easy!) plus Roasted Rosemary Potatoes and a garden salad
Thursday: Chicken Tortellini Florentine casserole (from Dream Dinners) and a garden salad
Friday: Special event–no cooking for me!
Saturday: Leftovers
Sunday: Philly cheese steak sandwiches with carrot sticks on the side
What's on your menu plan this week?
Don't Miss Out!
Don't miss out on all kinds of updates from Meal Planning Magic! Be sure to SIGN UP HERE to receive updates via email or RSS feed (you can choose which you prefer or choose to receive both!) And don't forget you can always follow me on Facebook, Twitter, Pinterest or Instagram. They all offer a little something different and are a great way to stay in the loop on new menu plans, recipe ideas, giveaways, organizing tips and more!