This post may contain affiliate links. Please read my disclosure policy.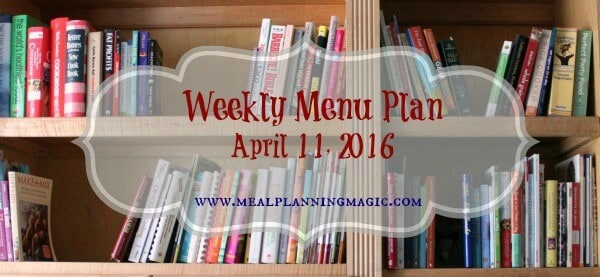 I'm breathing a sigh of relief this week! My husband and I helped with a big school fundraiser over the weekend and while it was fun, I'm glad to get a little bit more of my free time back. Spring sports have just started for the kids though so our evenings are still a bit busy. I'm hoping to sit down soon and plan out the next few weeks of menu plans. Planning your weekly menu plan for one month at a time is not that much more difficult than planning a week at a time. After school activities are pretty well set for us so I know what to expect in the evenings. Each week I still review my plan to make any adjustments but for the most part it usually works out! If you'd like to get started meal planning, check out my post here for some tips!
Now, on to my weekly menu plan for this week:
Monday: Turkey Florentine Burgers with sweet potato waffle fries
Tuesday: Pizza Roll (family favorite–I need to take pictures and share here!) and garden salad
Wednesday: Slowcooker Fajitas (new recipe I'm trying) with peppers, onions, guacamole and cilantro lime rice
Thursday: Philly Cheesesteaks (from Dream Dinners) with side salad
Friday: Leftovers
Saturday: special activity–catfish fry (made for us with friends!), coleslaw and other yummy sides!
Sunday: Greek island Shrimp over pasta with garden salad
What's on your weekly menu plan this week?
Don't Miss Out!
Don't miss out on all kinds of updates from Meal Planning Magic! Be sure to SIGN UP HERE to receive updates via email or RSS feed (you can choose which you prefer or choose to receive both!) And don't forget you can always follow me on Facebook, Twitter, Pinterest or Instagram. They all offer a little something different and are a great way to stay in the loop on new menu plans, recipe ideas, giveaways, organizing tips and more!