This post may contain affiliate links. Please read my disclosure policy.
For this week's Weekly Menu Plan, I'm focusing on using up what I've got in my pantry, fridge and freezer. It's a little challenge I'm setting for myself to use up what I have to save more on groceries. Be sure to check back here tomorrow so you can get details about joining up too!
Last week I told you why I love Dream Dinners and this week's menu includes some meals from there. Here's what's on the menu for this week:
Monday: Slowcooker Lasagna Soup, garden salad
Tuesday: Tuna Rollups with homemade cream of mushroom soup, steamed vegetable
Wednesday: Pub Style Chicken with Mashed Potatoes (from Dream Dinners)
Thursday: Beach Street Shrimp Scampi with Pasta (from Dream Dinners)
Friday: TBA–something special for Valentine's Day!
Saturday: Out to Eat
Sunday: Leftovers
Olympic Winter Game Inspired Ideas
We're big fans of the Olympics at our house. We love to sit and watch as much of the coverage as we can. Last week I wrote a post for Produce For Kids with some ideas to help you bring the Winter Games into your home too! You can also check out my Olympics Fun Pinterest board that includes a growing collection of even more Olympics ideas.

Valentine's Day Ideas
Valentine's Day is this week! Ack! I haven't done much thinking about Valentine's Day unless you count all the ideas I've been collecting on my Pinterest boards. There are some really creative ideas from others so I say, why reinvent the wheel, right? Check out the boards by clicking on the picture below.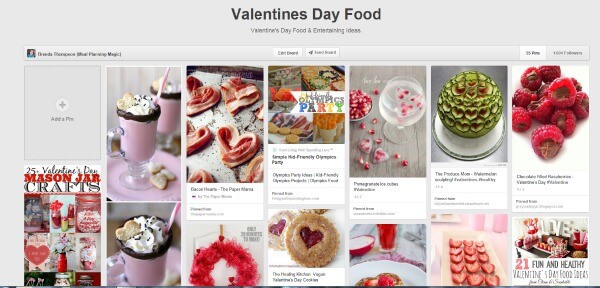 What's on your menu this week? Will you be doing anything fun for Valentine's Day for your family? I hope you have a great week!