This post may contain affiliate links. Please read my disclosure policy.
Well, the slow and easy start to our school year is about to come to a halt. At least this week! Two open houses at two different schools on two different days and another meeting later in the week plus meetings nearly every day this week for me means it's going to be a busy one! Next week looks just a busy so last week I sat down and planned our weekly menu plans for the rest of the month. Yes, I'll tweak it as needed but the basics are there. The good news is we get a bit of a breather again once October rolls around (what?! How can I already be talking about October?) Last night we had one of favorite meals…homemade tomato soup. It really is SO easy and every time I make it my family just raves! I am planning to share the recipe with you all in the coming weeks.
This week I'll also be planning a BIG freezer cooking session for this upcoming weekend. It's around this time of year that I like to get some basics in the freezer like Homemade Slowcooker Spaghetti Sauce or Homemade Chicken Pot Pie and others to add to my stash of freezer meals to help make dinner time so much easier. I'm planning to include a few breakfast and side items as well. I'll let you know how it goes!
Now let's get to this week's Weekly Menu Plan! I've got two slowcooker meals and two freezer meals to help make our mealtimes go a little bit easier. Don't you just love slowcooker meals? I've gotten this week's inspiration from my Slowcooker Pinterest board . Here goes:
Monday: Loaded Ranch Baked Potato Soup (inspired by this recipe) and cut up veggies (probably carrots and cucumbers)
Tuesday: Slowcooker Ravioli Casserole (adapted from this recipe) and garden salad
Wednesday: Parmesan Pesto Salmon with rice pilaf and roasted cauliflower
Thursday: Sherry Chicken (from Dream Dinners) with roasted broccoli and mashed potatoes
Friday: Leftovers
Saturday: Friends get together–no cooking for me!
Sunday: Baked Tilapia with rice and garden salad
What's on your menu this week?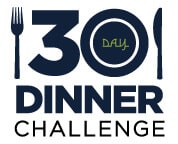 Earlier this month, I shared with you the Dream Dinners #30DaysofDinner Challenge. Have y'all been sharing your photos on social media? Remember, when you do, that increases your chances of winning a $200 credit towards Dream Dinners meals!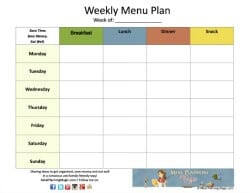 New Newsletter-FREE printable!
Have you signed up for my new newsletter that I told you about last week? You can get a FREE downloadable printable to help you with your menu planning! CLICK HERE for more details.
Don't Miss Out!
Don't miss out on all kinds of updates from Meal Planning Magic! Be sure to SIGN UP HERE to receive updates via email or RSS feed (you can choose which you prefer or choose to receive both!) And don't forget you can always follow me on Facebook, Twitter, Pinterest or Instagram. They all offer a little something different and are a great way to stay in the loop on new menu plans, recipe ideas, giveaways, organizing tips and more!