This post may contain affiliate links. Please read my disclosure policy.
This week's menu plan is the kick off to a whole month of menus that I sat down and planned out yesterday. Actually, I took advantage of some road trip travel time and got it done in the car. The first week of the month is always extra busy for us with some "first of Monday or first Thursday" of the month meetings and activities. October also seems to be the kick off for a fun-filled season of activities for us! Since many of our activities are predictable (music lessons on Monday afternoons, sports practices on Tuesdays and Thursdays, Scouts every other week, etc.), I can pretty easily predict what kind of evening we'll have and whether it's a day I can cook something a little more time consuming vs. something that is super quick and easy! Each week I'll take a look at the menu plan and adjust it accordingly if plans have changed but the majority of the plan is done!
Also, since I have a Freezer Inventory log, that helps me keep track of what I have on hand so I just need to assign each meal to a certain day. It's a good thing my freezer is full of meals I can just pull out and make in a snap. I've gotten a lot of meals from Dream Dinners lately. If you don't know about Dream Dinners, be on the lookout for a post coming soon as there may be a location near you to help you fill your freezer too!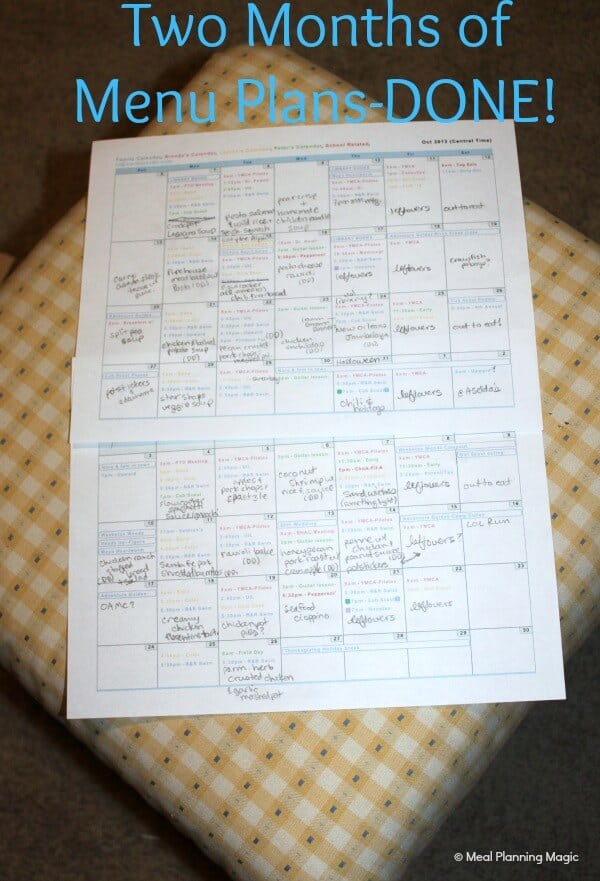 Let's get to the meal plan for this week!
Monday: Slowcooker Lasagna Soup with garden salad
Tuesday: Pesto Salmon (from Dream Dinners), wild rice pilaf and steamed vegetable
Wednesday: Homemade Chicken Noodle Soup and garden salad. I'm using up some ingredients I already have on hand and need to get out of the freezer or refrigerator and use up! Like turkey carcass, carrots, celery & onions. I'm also going to make a pear crisp or cobbler to use up some of the pears I got from a neighbor last week for free (nice!)
Thursday: Leftovers
Friday: Leftovers
Saturday: Out to eat. I'm doing a 5K Mud Run earlier in the day so I know I won't feel like cooking that evening!
Sunday: Carne Asada Steak Tacos (from Dream Dinners) with all the fixings (guacamole, sour cream, etc.)
Last week I also shared my recipe for Cinnamon Raisin Peanut Butter Energy Balls but I forgot to share a different recipe using Peanut Butter & Co. Dark Chocolate Dreams peanut butter. It's a simple but so delicious smoothie recipe! Just follow this simple recipe and you can make it too!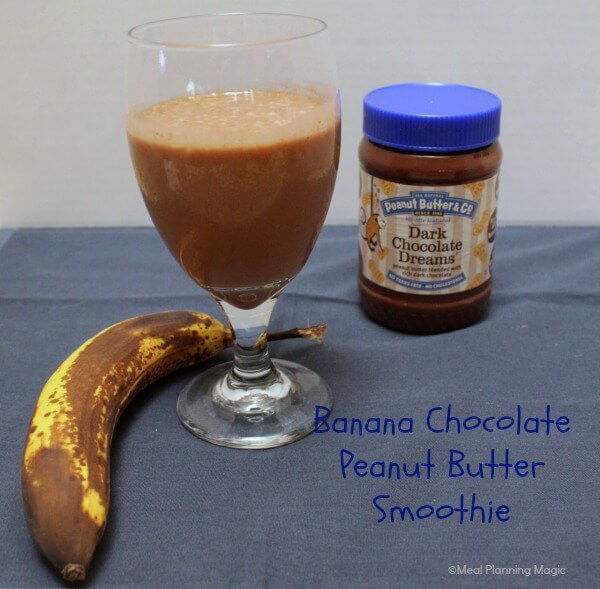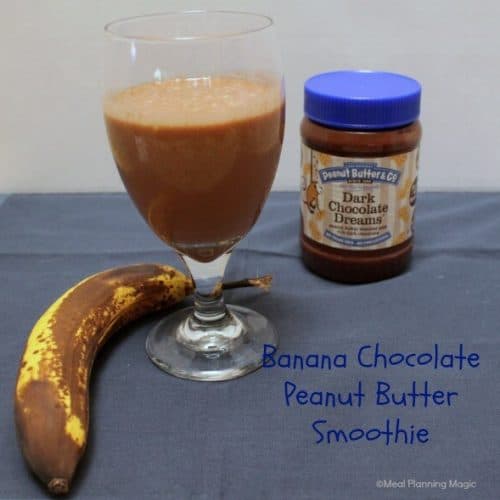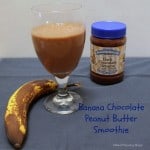 Simple Chocolate Peanut Butter Banana Smoothie
Print Recipe
Ingredients
1-2

very ripe bananas

2

tablespoons

Dark Chocolate Dreams peanut butter

or two tablespoons regular peanut butter and 1 teaspoons cocoa

1

cup

hazelnut milk

or milk of your choice but you might want to add a little vanilla if you use plain milk
Instructions
Put all ingredients in a blender and blend together. Enjoy!
Don't want to miss an update? Be sure to SIGN UP HERE to receive updates via email or RSS feed (you can choose the reader you prefer!) And don't forget you can always follow me on Facebook, Twitter, Pinterest or Instagram. They all offer a little something different and are a great way to stay in the loop on new menu plans, recipe ideas, giveaways, organizing tips and more!