This post may contain affiliate links. Please read my disclosure policy.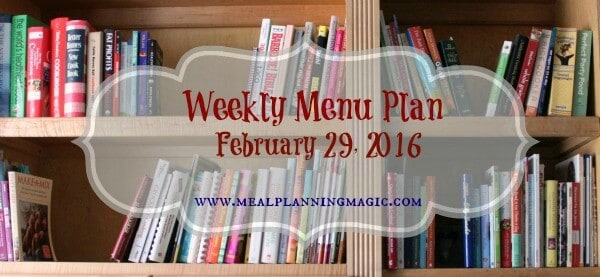 This week is all about getting organized for my weekly menu plan! I'm using up some things we have on hand and keeping it simple with the recipes or make ahead meals. I'm trying some new recipes but also some favorites. There are a couple of recipes that are oldie-but-goodies from my own blog but also from my Crockpot Pinterest board (have you checked it out? It's loaded with lots of ideas!)
Monday: BLT Panzanella Salad and Tortilla Soup (random combo but we're trying to use up some things we already have on hand) –trying a new salad from the Sunday Supper salads roundup last week!
Tuesday: Homemade Beef, Arugula and Spinach Lasagna and garden salad
Wednesday: Tomato-Basil Topped fish with rice pilaf and garden salad
Thursday: Slowcooker Beef & Broccoli over steamed rice
Friday: Leftovers
Saturday: Special outing–no cooking for me!
Sunday: TBA – busy day so will have to wing it!
What's on your weekly menu plan this week?
Don't Miss Out!
Don't miss out on all kinds of updates from Meal Planning Magic! Be sure to SIGN UP HERE to receive updates via email or RSS feed (you can choose which you prefer or choose to receive both!) And don't forget you can always follow me on Facebook, Twitter, Pinterest or Instagram. They all offer a little something different and are a great way to stay in the loop on new menu plans, recipe ideas, giveaways, organizing tips and more!