This post may contain affiliate links. Please read my disclosure policy.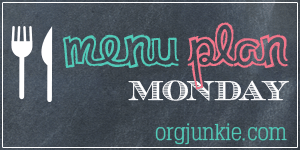 The holidays are just around the corner so now is the time to reduce some of the stress and plan your meals out so that you have one less thing to think about. I'm still working on building some new breakfast and lunch options that my kids enjoy taking to school. Thankfully my daughter has been doing some of her own research and is coming up with some suggestions! More on that as things develop….
Now, let's get on to the meal plan! Here's what's on our weekly menu plan for dinners this week:
Weekly Menu Plan
Monday: Herb Crusted Tilapia (from last week's Wildtree Freezer Meal Assembly Party I mentioned I was going to) served with rice pilaf and roasted asparagus (it seemed a little out of season but I think it's on the early side—was a great price though!)
Tuesday: Greek Hamburgers served with a Greek inspired salsa (also from Wildtree party)
Wednesday: Peachy Turkey meatballs, steamed rice and edamame or garden salad (or both!)
Thursday: Crockpot Rosemary Pork Tenderloin, mashed potatoes and roasted broccoli.
Friday: Leftovers
Saturday: Leftovers or out-to-eat
Sunday: Homemade Chicken Pot Pie and garden salad
What's on your weekly menu plan for dinner this week?
Meal Planning for a Month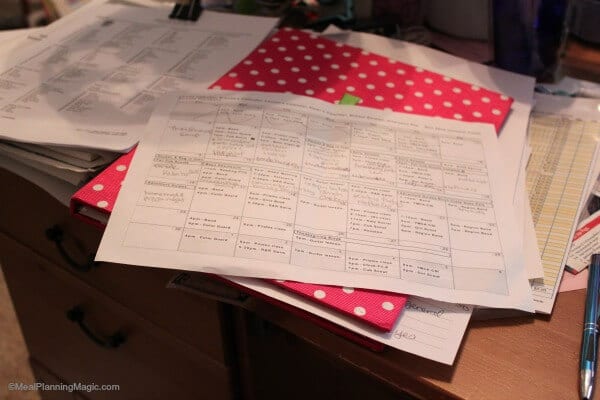 Last week I sat down and started on my monthly meal plan for this month. The picture above is of my monthly menu plan for November and I'm hoping to work on December's too. It's not completed but I've got the first couple of weeks figured out. People often ask me how I can plan for a whole month but it's not as hard as you may think. With kids, many of our evenings are set based on the activities going on afterschool. For example, Mondays mean band sectionals for my daughter. Another day means guitar lessons for my son and then there are the monthly activities like scouts which happens on the third Thursday of every month. Fill in with the meetings and other activities my husband I have pop up, we've got a pretty basic framework for our monthly calendar. Last week on my Facebook page I asked for feedback on what is the biggest challenge for everyone and many stated that they just don't know where to start! Of course, my advice is to start small but just START! You can find tips in my blog post, How to Meal Plan – Simple Steps to Get Started. Having a freezer full of options also helps because I know that the majority of my cooking time is already behind me so I just need to use my freezer inventory to make my plan. You can read about some of the freezer meal options I use in this post that talks about using a freezer meal prep business and this post about starting a Freezer Meal Exchange Group.
Giveaway Reminder!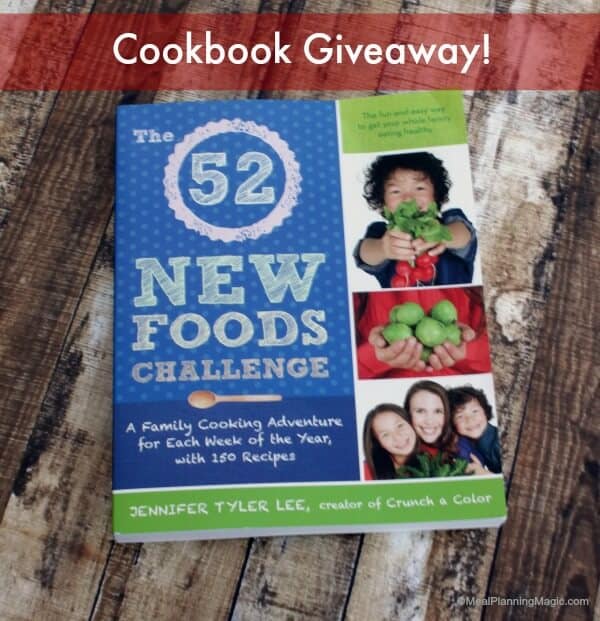 There's still time to enter the giveaway for The 52 New Foods Challenge Cookbook! Click here for more info. and to enter for your chance to win!
Don't Miss Out!
Don't miss out on all kinds of updates from Meal Planning Magic! Be sure to SIGN UP HERE to receive updates via email or RSS feed (you can choose which you prefer or choose to receive both!) And don't forget you can always follow me on Facebook, Twitter, Pinterest or Instagram. They all offer a little something different and are a great way to stay in the loop on new menu plans, recipe ideas, giveaways, organizing tips and more!