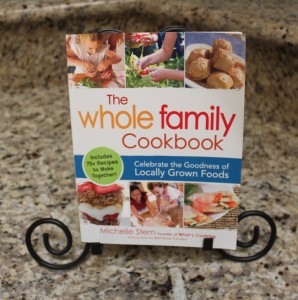 I first stumbled on upon the What's Cooking With Kids site just about a year ago when I was looking for kids cooking party ideas for my daughter's birthday party. Michelle, the site's owner, runs a popular cooking class for kids in her hometown in California so I came away with lots of ideas! Since then, I've become a regular reader of the blog and love all the ideas she offers for having fun in the kitchen with kids while still remaining conscious of the world around them and their impact on it.
So when Michelle announced that she had written her first book, The Whole Family Cookbook, I was excited to be able to check it out for myself! The subtitle, Celebrate the Goodness of Locally Grown Foods, is one focus of the book as the recipes feature ingredients that can usually be found locally.
But the real gem with this book is how the author took her knowledge of cooking with kids and put it into the cookbook by color coding each recipe's instructions by age. This makes it simple for kids ages two and up to get busy in the kitchen with their family! So we put a couple of the recipes to the test.
My son helped me make the Lemon Buttermilk Sherbet. With only three ingredients it was simple to prepare—the hardest part was waiting for it to freeze! Our whole family liked the flavor of the sherbet but one little tip I'm passing on: make sure the lemon zest is really finely chopped. I didn't do such a good job of that and my family didn't care for the bits of peel in their dessert.
My daughter was even more excited to get into the kitchen so we chose the ABC (Apple Bacon Cheddar) Frittata. She was so anxious in fact that she got up early before school to make it for breakfast. While it went together quickly I underestimated how long it would take to bake and we were pushing it to eat it before it was time to head to school. Delicious nonetheless, it also made great leftovers!
My most favorite recipe so far is the Kale Chips. I'll admit, after my first (bitter) encounter with kale I was very hesitant to try these. But knowing how good kale is for you (full of vitamin A, K and beta carotene) and having heard about these mysterious kale chips, I gave it a go. From the first taste I was hooked! And the kids were hooked. We could not stop eating them! Hooray for a new healthy snack!
Not only is the book full of yummy recipes like Oven-Fried Zucchini Sticks, Summertime Kabobs with Udon Noodles or Turkey Toes (a twist on chicken nuggets—homemade, of course!) but sprinkled throughout are Kid Zone, Going Green or Recipe For Action tips that help readers learn how to keep kitchen time fun but also maintaining mindfulness for the planet and local community opportunities. Other ideas include how to raise a locavore (one who tries to eat only locally grown foods) and even a section for teachers who want to start teaching students to cook.
If you have children in your life and want to teach your family to become more conscious in the kitchen, check out The Whole Family Cookbook!  
 Disclosure: I did receive an advance copy of this cookbook for this review however all the opinions expressed here are my own.