This is a post I wrote over 5 years ago so I've refreshed it a bit and am sharing it again for those of you that may not have seen it the first time around. I'm no longer organizing a freezer meals exchange group as I haven't found enough friends who like to cook as much as I do to keep one going but I do miss it! But the irony is, you don't really need to love cooking to reap the many benefits of a group like this. I hope you'll give it a try!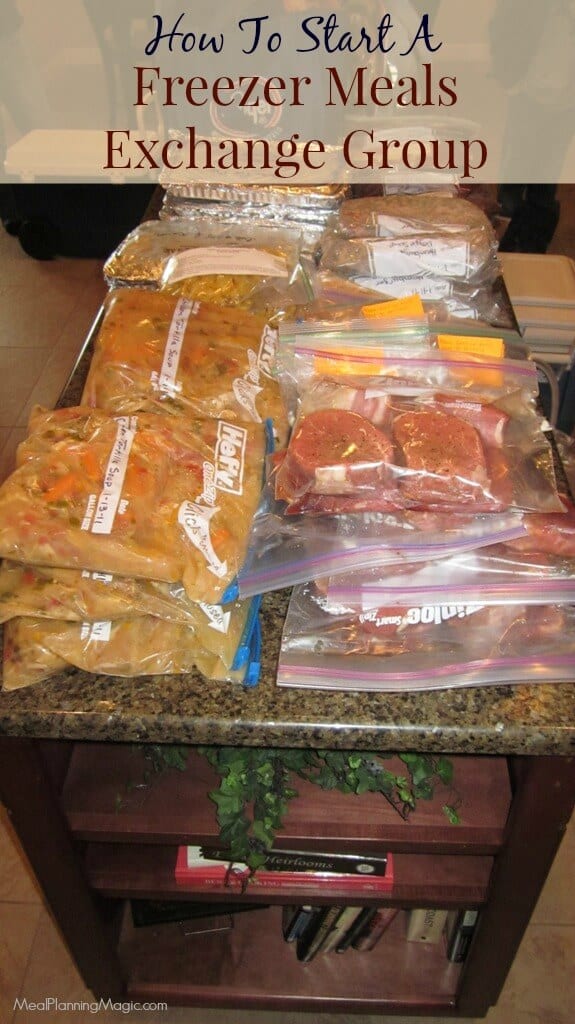 About five years ago I came up with the brilliant idea to start exchanging freezer meals with a group of friends. Okay, so maybe it wasn't my original idea, but my friends sure thought I was brilliant! That group fizzled out after a couple of years due to members moving and dietary changes. But this past fall I started up a new group with some of the same and some new friends. We are so loving the convenience of having variety of meals to choose from our freezer on busy nights.
Sometimes called freezer co-op exchanges, we just call our group a freezer meals exchange group. The concept is simple: each member makes the same number of meals as there are members in the group. The beauty of this group is that you'll save time and money because it allows you to buy in bulk or when items are on sale and make multiples of the same recipe but go home with a variety of meals to serve your family throughout the month.
Here's a step-by-step run down of how to get started forming your own group:
Who will be in your group?
Think about your friends and decide if they would be a good match. Consider a few of the following things:
Are the ages of their children similar to yours? A family with toddlers or preschoolers will likely have different appetites than those with teenagers.
Do they have a similar size family? If your family has one or two children, matching with a family that has several children may not be as good a match. However, one time one of our members had an infant and two other children so since the baby wasn't eating the meals, it worked out okay.
Does anyone have allergies? Families that have severe food allergies may want to seek out families with similar allergies although this can still be tricky unless you know the other family well and are sure cross-contamination is limited. Food preferences are another thing. If one of your members does not like a certain ingredient, say bell peppers, you can choose to either not include that item in their meal or just choose a different recipe altogether.
How many members should you have?
When my first child was born, I had an informal exchange with just one other friend. We would double our recipes every so often and swap meals with each other. The first actual group I started had six members. It was a nice number as it gave us a variety of meals to choose from. We have eight members in our current group but the size can vary depending on your preferences. Eight is probably the largest I would go because it can mean more time in the kitchen cooking and for those with only small freezers, more limited space.
Choose a regular time and day to meet and exchange your meals.
Some groups like to cook together but we find it's easier to prepare and freeze the meals ahead of time then get together to exchange our frozen meals. Most of our members have a flexible schedule and on a weekday in the afternoon. In my last group, we met late in the afternoon after naps. Some groups might want to meet and exchange on a weeknight evening or weekend day.
Choose a day to cook.
Depending on your own freezer space, you need to decide on a day to actually prepare your meals for the exchange! I like to do mine a few days before the actual exchange in case something comes up and I need to adjust.
Choose a recipe to prepare.
Multiply Your Recipe and Shop!
Take the recipe you've chosen and multiply the ingredients by the number of members in the group (so, I multiply by eight) and make the grocery list and get shopping!Now is the time to take advantage of sales at your local grocery store or make your purchases at your local wholesale club. I have found that I can usually make all my exchange meals for about $75 or less total. Last time my bill was $68 for all the ingredients. That's only $8.50 per entree! Add a salad or side and you've got dinner on the table for about $10! Don't forget the container(s) you will need to put them in like a aluminum pan or ziptop bag.  If you need help with the math multiplying your ingredients, check out
30 Day Gourmet's Big Book of Freezer Cooking
for included worksheets or their companion software (purchased separately),
Advantage Cooking
. I have both and they are very helpful tools!
Cook and Freeze!
I try to plan my cook day to be a few days before my actual exchange day. That way, if something comes up, I still have an extra day or two to fall back on. I set up everything in an assembly-line fashion to make it easier. Last time I made
Quick & Zesty Vegetable Soup
(I use frozen mixed vegetables instead of the canned). I will make eight of the same meal, label and add cooking instructions, then pop it in the freezer.
Exchange!
Once a month we get together and bring our frozen meals in coolers to the hostess' house (we take turns hosting in our home). We lay out all the meals and grab one of each of the
other
members' meals to take home with us. Then put all the meals back in our own cooler, load up in the car and bring back to our own freezers. Don't forget to
log what you're putting in your freezer
for easier meal planning!
When you're all done you'll have a variety of new meals ready to pull out on busy nights or nights when you don't feel like cooking. Need to bring a meal to a friend who just had a baby, is sick or needs support for another reason? Having your freezer stocked is a great way to help out in that way too!
How do you make freezer cooking work for you? I'd love to hear other ideas!