This post may contain affiliate links. Please read my disclosure policy.
Plantain tostones are a great way to accompany Latin-inspired dishes as a flavorful side dish, or even as an easy snack. This easy side dish recipe will become a family favorite!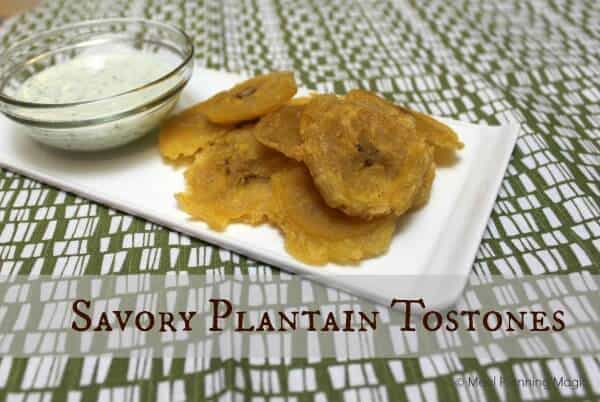 In our part of Texas, there are a lot of cultural influences on the types of food made in restaurants here (and at home by many). Some of my favorite restaurants are those with a Latin influence. And since I first tried it, I've long been a fan of plantains, the banana's larger cousin. So I wanted to try making them myself for this month's Eating the Alphabet Healthy Recipe Challenge.  Savory plantain tostones are an easy and quick alternative to potatoes. They're fried twice for extra crispiness. I made ours with a creamy cilantro dipping sauce too.
The plantain is a starchy, low-sugar cousin to the banana that, when cooked up, maintains a somewhat firmer texture than cooked bananas. Good source of potassium, Vitamins A, B6 & C and many other vitamins. For more tips, recipes and other ideas for plantains, check out this site.
You can find plantains near the bananas in many supermarkets. The green plantains are for savory recipes like these plantain tostones, the yellow plantains are good for grilling and the brown skinned ripe plantains are great sautéed and served over ice cream (which I want to try next!) I hope you'll give this simple fruit a try!
Have you ever tried plantains?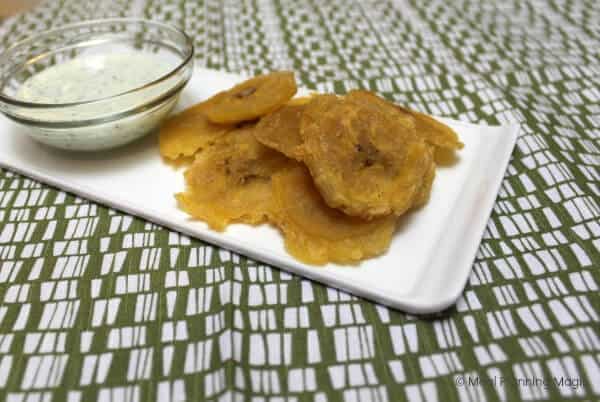 Look how easy the platain tostones are to make – here's the recipe!
Savory Plantain Tostones #EatingAtoZChallenge
Ingredients
1 plantain, peeled and sliced into ½-1-inch chunks
4-5 tablespoons oil for frying (I used coconut oil to go with the tropical flavor, but any oil will do)
Salt to taste
Dipping Sauce:
½ cup sour cream
½ cup cilantro, chopped
Dash of hot pepper sauce
¼ tsp ground black pepper
½ tsp salt
Instructions
In a heavy pot, add three tablespoons of oil until hot. Add plantain slices and fry until bright yellow and slightly golden brown, about 2 minutes on each side. Remove from oil and place on a paper towel on a plate to drain. Using a fork or flat-bottomed glass, smash each piece into a ¼-inch jagged circle.
Place plantain discs back in the oil and fry for 4-6 more minutes or until edges are golden brown, flipping one time. Remove to a wire rack and sprinkle with salt.
These are a tasty snack or great served as a side dish to your favorite grilled chicken or steak.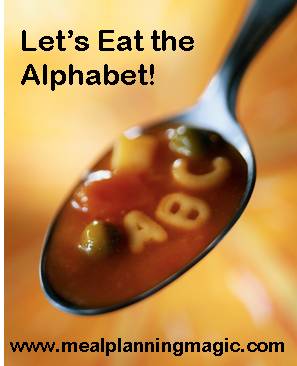 For all the details about the Eating The Alphabet Healthy Recipe Challenge, check out my post from earlier this year (or if you are a blogger and want to join in, there is a sign-up form to complete).
Don't forget to check out my Pinterest board. There you can keep track of all the recipes that are added month-to-month but also find new recipes from last year too. What's your favorite fruit, vegetable, grain or legume that starts with the letter P, Q or R?
Be sure to check out all the other blogs shown below to discover new recipes and ideas!