Thank you to CRESBI Crates for providing me with samples of the crates to review.
I'm not going to lie. When I first received an email from Linda of CRESBI Crates I was not sure I needed ANOTHER thing to tote to the grocery store. I mean, I already have a ton of reusable grocery bags that seem to be doing just fine, so why did I need a reusable grocery crate?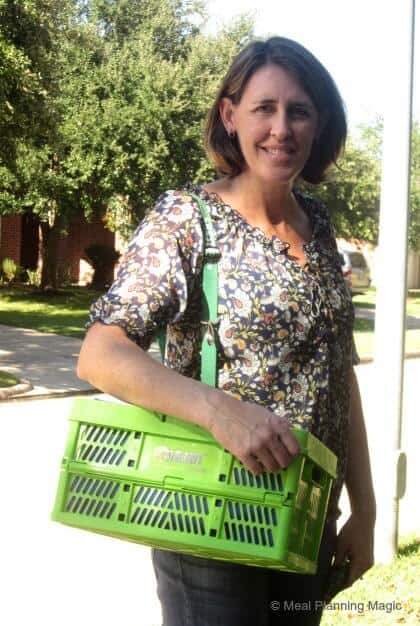 But boy, was I wrong! I love these things. Since receiving some of the reusable grocery crate samples from CRESBi, I have been testing them out at various places. I've used them at Costco, Sam's Club, Kroger, ALDI and even to my sister-in-law's to carry food we were bringing to share for the weekend. I love that they are sturdy enough to carry a lot of groceries, but fold flat for easy storage. They have built-in handles but the hook-on straps make them SO much easier to carry around. They are perfect for warehouse stores or ALDI stores where you don't get bags anyway!
You can see my son even got into using them when we made a stop at the store to pick up a few items. He said "Mom, we don't need a cart. I'll just carry this crate!" (Granted, we knew we were only getting a few things so it would not get too heavy for him.
A few things I like are they are :
Easy to carry. I keep them collapsed in my car and just carry into the store, pop them up and they are ready to use and fill up!
Easy to load and scan groceries in at the store. I especially like this at the warehouse stores where you don't have the option to get a bag. I just load up my crates with the UPCs facing up so that it's easy to just load the whole thing on the belt, cashier scans, back to the cart then into my car. No transferring of things in and out!
Sturdy. They hold heavier items more easily than reusable bags. Yet they are lightweight enough that they don't add much extra weight to what you're already loading for groceries or other items.
Environmentally friendly. This is kind of a no-brainer, but the other thing is that they tend to hold more than a reusable bag (because they are more heavy duty).
Cooler. Literally. They come with an insulated liner that fits just right for the different size crates. And I'll also say, these keep things COLD! Oh, and they're cooler figuratively too. Every time I've used them I get a comment from the cashier about how neat they are (the folks at Costco seem to ask the most questions about them!)
Now, I'm not going to be getting rid of ALL my reusable grocery bags just yet, but I may repurpose them for other duties and save the space in my car toting all those bags when I know I can use my CRESBI Crates. You can watch a video of the crates in action below:
They would make great gifts for those green-conscious friends or anyone who wants to help make shopping easier, more efficient and greener! And don't forget to order some for yourself! Just CLICK HERE for more details and to place your order.
Disclaimer: I did receive samples of this product but no additional compensation. All opinions are my own.