School starts for my kids in just a week and we're trying to wrap our brains around it. We've had a busy (busy!) summer with a move, swim team, vacations and just fun with family and friends–we're never quite ready for it to end. I know many of you with kids in school had some of them head back a couple of weeks ago so maybe you're already looking for new ideas! So even though my kids are getting older, it seems we can never have enough ideas to keep packed lunches interesting AND tasty.

As some of you may know, I'm a Parents on Produce member for Produce for Kids®. Starting last week and running through September 15th, they kicked off the new Power Your Lunchbox Pledge which encourages parents to pack healthier lunchboxes for their kids this back-to-school season. Visitors to poweryourlunchbox.com can pledge to pack healthier lunchboxes; get dietician-approved, kid-friendly lunchbox ideas and tips; and download coupons from companies supporting the program. Sounds pretty great, huh?
Well, here's the extra bonus! For every pledge that families or individuals take, participating produce companies will make a 25 cent donation to DonorsChoose to fund health and wellness classroom projects around the country! Additionally, Define Bottle will be providing DonorsChoose.org with 20 percent of each sale during the pledge time frame! (Coincidentally, my kids have been asking for a Define bottle since seeing them on the Shark Tank television program awhile back!)
"There is so much in the news today about what kids are eating during lunch at school," said Trish James, vice president, Produce for Kids. We're excited to be encouraging parents to pack healthier lunchboxes this school year and providing them with resources to do so. "In addition, we're able to raise funds to educate kids in the classroom about making healthier food choices and the importance of nutrition and exercise."
Produce for Kids' Instagram and Twitter fans can use the #PowerYourLunchbox hashtag to show off their healthy lunchboxes throughout the program to be automatically entered to win weekly prizes and have their lunchboxes featured on Produce for Kids' Facebook page. Prizes include bento boxes, fruit-infusing water bottles, grocery store gift cards and more.
Parents looking for even more tips and resources for healthy lunchboxes are invited to join me, Produce for Kids and partner companies at the #PowerYourLunchbox Twitter party on August 20, 2014 at 9 pm ET. Twitter parties are always so much fun and I ALWAYS learn something new (well, usually lots of something new!)


Y'all, they even have a Power Your Lunchbox Pinterest board that you can check out–so many great ideas there!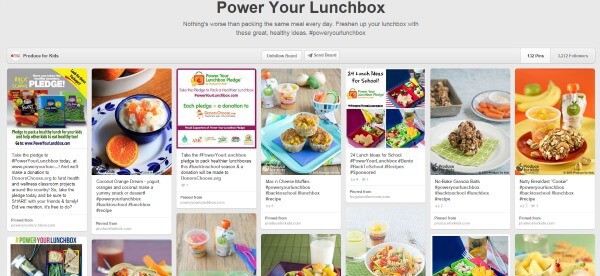 I've personally added a few Produce For Kids recipes to our own "must make" list. I think these sound like tasty choices that my kids will enjoy and my teen (especially) will think are "cool" enough to bring to school, too! These are tops on my list: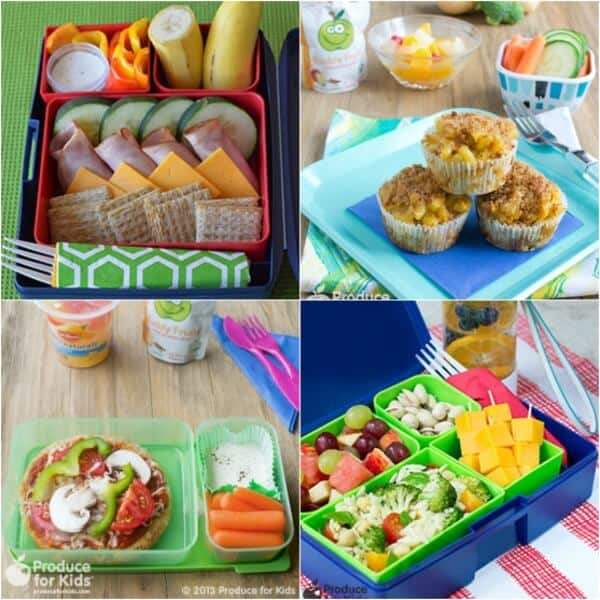 (pictured clockwise from left)
Produce for Kids partners supporting Power Your Lunchbox Pledge include: AMC Direct South African Summer Citrus, Define Bottles™, GROW by Organics Unlimited, Laptop Lunches® Bento-ware and Pero Family Farms®. These companies will be making a difference by helping Produce for Kids fund health and wellness classroom projects across the U.S. through DonorsChoose.org.
Have you heard of DonorsChoose ? It's pretty cool! It is an online charity aimed at helping public and charter schoolteachers across America obtain the supplies needed for their classrooms. To date, 190,000 public and charter schoolteachers have used DonorsChoose to secure $247 million in books, art supplies, technology and other resources to enhance student learning. Even you can give to DonorsChoose. By making a donation online, YOU get to choose which teacher and/or project you want to support. It's really neat.
Are you are teacher or know one? Teachers across the country are encouraged to begin uploading their health and nutrition-based classroom projects as early as September 1 to receive funding from the Power Your Lunchbox Pledge program. Produce for Kids will be enlisting the help of the public to match donations to all projects that meet these requirements. For more information on teacher eligibility, please visit DonorsChoose.org <http://www.donorschoose.org/donors/viewChallenge.html?id=242936>
It's SO easy to take the Power Your Lunchbox Pledge! Just CLICK HERE to get started. I hope you'll join in all these opportunities for tasty lunchbox ideas for you and your kids that ultimately help kids all over, too!
Disclaimer: I have not been compensated in any way for this post–I am just an excited member of the Parents On Produce board hoping to share the wonderful resources mentioned here!