This post may contain affiliate links. Please read my disclosure policy.
Potato soup is a hearty, inexpensive dinner. This slowcooker potato soup has kielbasa sausage, spinach, and Gouda cheese, so it's filling and delicious, too. Let your slow cooker do the work!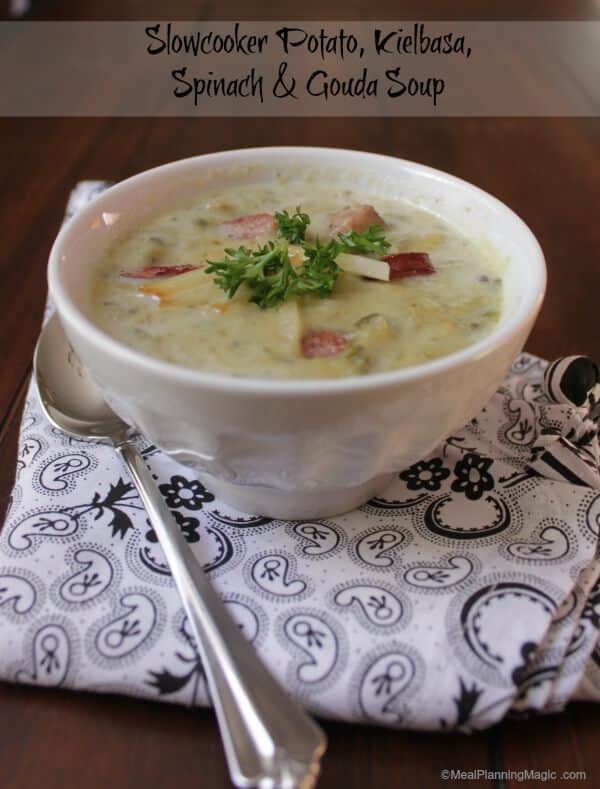 My daugher loves baked potato soup (well, we all do but she's a superfan!) She orders it whenever she can when we go to a restaurant that has it on the menu. But I'm sure the restaurant version is full of calories and fat that we certainly try to watch. So when I first found a potato soup recipe that I could make in the slowcooker, we were hooked! Potato soup is super easy and the best part about making it yourself is that you can control what goes in it.
I often like to use one- or two-percent milk or sometimes low-fat evaporated milk like this recipe for Potato, Kielbasa and Spinach Soup with Gouda. This recipe is adapted from a recipe I found in one of my favorite slow-cooker cookbooks, the Favorite Brand Name Slow Cooker book.
I love that it has spinach in it (I'm always looking for ways to get extra greens into our menu and spinach seems to be one that my family actually likes!) and the addition of kielbasa sausage makes this a hearty soup perfect for a great meal. The gouda adds a unique flavor that is just delicious. Best of all, who doesn't love making dinner in the morning and coming home from a busy or long day with dinner waiting? This recipe fits the bill perfectly!
Pair the potato soup with a garden salad and some crusty bread and you've got dinner covered.
Slowcooker Potato, Kielbasa and Spinach Soup with Gouda
Ingredients
12 oz. package Kielbasa sausage
6 cups Yukon Gold (or similar brand) potatoes, peeled and chopped into small cubes (about 9 medium potatoes)
2 cans (14 oz) chicken broth
½ cup water
1 small red onion, finely diced
5 ounces baby spinach leaves
½ teaspoon salt
¼ teaspoon black pepper
2 ½ cups smoked Gouda cheese, divided (I used sliced cheese and chopped it up as I could not find it shredded)
1 can (12 oz) evaporated milk
Garnish
7-8 sprigs of curly parsley, chopped
Instructions
Cut kielbasa into slices and cook in medium saucepan until warmed through and slightly crispy on the outside. Cut into quarters (four pieces per slice). Set aside.
In slow cooker, combine sausage, potatoes, chicken broth, water, red onion, spinach, salt, red pepper and black pepper. Cover; cook on LOW 10 hours or until potatoes are tender.
Slightly mash potatoes (I used my potato masher but you could also just use a large spoon), add 2 cups of the Gouda cheese and evaporated milk. Stir to combine. Cover; cook on HIGH 15 to 20 minutes or until cheese is melted.
Pour soup into bowls. Sprinkle remaining 2-3 teaspoons of remaining Gouda cheese in each bowl. Add parsley, if desired.