This post may contain affiliate links. Please read my disclosure policy.
No bake energy bites, naturally sweetened with dates, peanut butter, and chocolate. This easy no bake recipe is a healthy snack option or even quick fuel for a busy morning.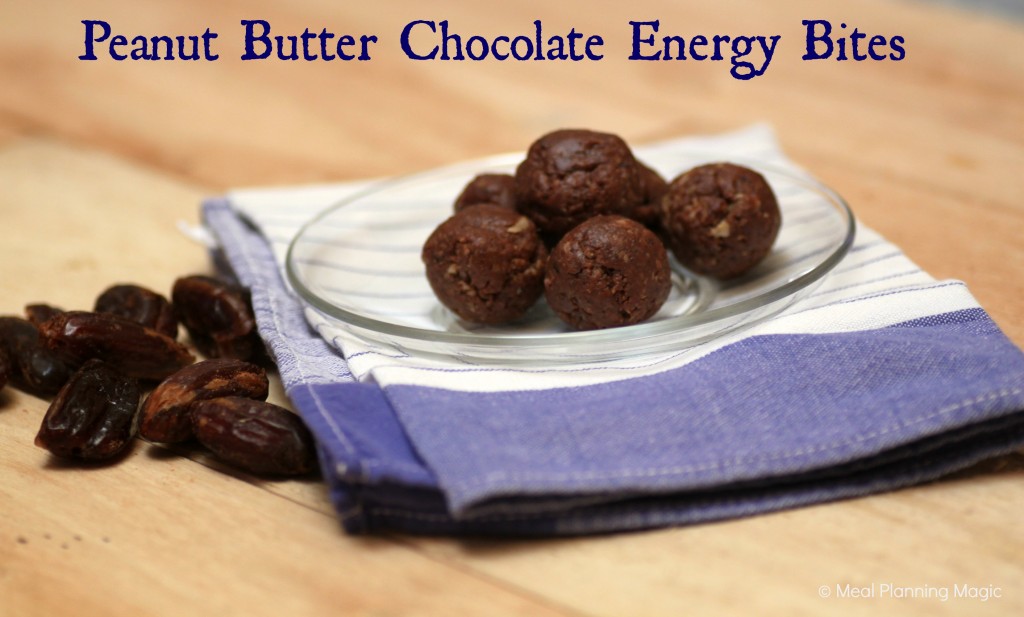 Can you believe it's already the middle of March? That means it's time for another Eating the Alphabet Healthy Recipe Challenge! I'm a few days late because I was out of town on vacation for Spring Break. If you're new here, this blog hop features fruits, vegetables, grains or legumes to help us discover delicious new ways to enjoy these healthy foods. And hopefully make some of them a little more interesting by choosing a different letter each month. For more details on how it all works, see the end of this post (and if you're a blogger, find out how you can join us!)
A Healthier Natural Sweetener (and Vegan!)
This month I chose dates. I have been seeing all sorts of things on the web about how to use these vitamin and fiber-filled powerhouses as natural sweeteners in tasty treats, so I knew I wanted to give them a try. Plus, I needed a reason to use some of that big bag of dates I bought at Costco a few months ago! It seems like there have also been a lot of recipes popping up about how to make homemade energy bars like Clif or Lara bars. I knew I wanted to try something like that but in a bite-sized, no bake energy bites form.
So the other day I had a craving for something with peanut butter and chocolate. I couldn't find a recipe that had just the right combination of ingredients, so I came up with my own, based on a compilation of some of the energy bar and energy bites recipes I had seen. Did you know that dates are an excellent source of iron and also potassium? They are also rich in lots of minerals like calcium and manganese and many other anti-oxidants. They are also full of fiber!
Peanut Butter and Chocolate- A Great No Bake Energy Bites Combination!
These little energy bites are SO delicious that I can't stop eating them! They kind of remind me of a no bake bars recipe I used to make growing up. But what's great about this easy healthy sweets recipe is that it's a guilt-free treat! They are all natural and vegan too (for those who follow that diet). The reviews from my family were a little more mixed. My son LOVED them and has had one for a snack nearly every day for a couple of weeks.
He thinks he is getting a real treat just like cookies or brownies but I feel much better giving him one of these! My daughter liked them too, but thought the bites were a bit too rich, so my second batch was just a one-bite version. My husband didn't care for them, but I realized later it's probably because he does not like anything fudgy—which these are very similar to. I shared some with my neighbor and she had similar results—she loved them and her family liked them too.
I am so glad to have found this delicious way to enjoy dates and satisfy my sweets craving at the same time in a healthy way.
The peanut butter chocolate no bake energy bites make up so quickly, I bet you'll always want to have some of these healthy energy snacks on hand!
Peanut Butter Chocolate No Bake Energy Bites
Author:
Ingredients
1 ½ cup dried dates, chopped
1/2-¾ cup peanut butter
½ cup unsweetened flaked coconut
3 tablespoons unsweetened cocoa powder
½-2/3 cup old-fashioned oatmeal (start with 1/2 cup and add more if it's still too sticky)
Instructions
Place dates and peanut butter in food processor. Cover and blend until smooth, about 1 minute. Add coconut, cocoa powder and oatmeal until fully blended. The mixture will form a ball and be very sticky. Using a 1-inch scoop, form balls and place on baking sheet lined with silicone mat or parchment paper. Refrigerate at least 30 minutes before serving. May be kept in refrigerator for up to a week or frozen for up to three months.
3.4.3177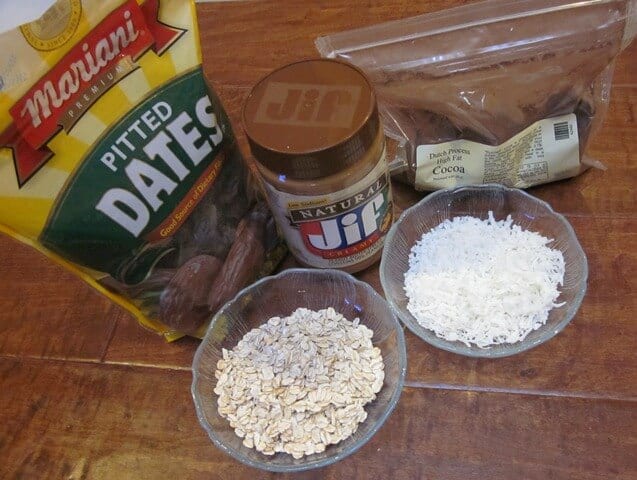 Just a few simple, natural ingredients is all it takes to whip up these delicious, nutritious sweet bites.
Bloggers, Join the Eating The Alphabet Healthy Recipe Challenge!
For all the details check out my post from earlier this year (or if you are a blogger and want to join in, there is a sign-up form to complete which you can find here).
Don't forget to check out the Eating the Alphabet Pinterest board. There you can keep track of all the recipes that are added month-to-month but also find new recipes from last year too. What's your favorite fruit, vegetable, grain or legume that starts with the letter C or D? Be sure to check out all the other blogs shown below to discover new recipes and ideas!