This post may contain affiliate links. Please read my disclosure policy.
With the news events of last week (both nationally and locally for me), I was a bit distracted and didn't get a whole lot of blogging done. I realize I haven't had a weekly meal plan for a few weeks either. Our weeks have been filled with special events so my cooking has been a bit more on-the-fly or relatively non-existent (thank you others for making our dinner!) It's no mystery though that I LOVE to collect recipes. I'm one of those people that can take a cookbook or cooking magazine and read it cover to cover like a novel! Add to that the many, many recipes I have found online through recipe boxes or on Pinterest, well, it's enough to keep me cooking forever. And I just cannot seem to stop finding new recipes that I'd like to make.
The thing is, as I mentioned on my Facebook page week before last, I'm a bit more of a recipe collector and not-so-much maker. Are you like me? Do you like to collect recipes but rarely actually try them? I've been collecting recipes so long I can't remember NOT collecting them! And, yes, I do make many of them but certainly not as many as I'd like!And, since I feel like I've been in kind of a meal planning rut lately, I thought it would be a good idea to issue myself a little New Recipe Challenge to actually start making those recipes I've been collecting and invite you all along too!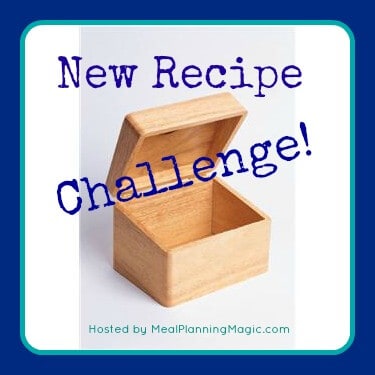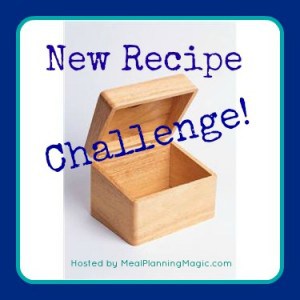 Join the New Recipe Challenge!
Set a goal for yourself. For me, that will be to try 2-4 new recipes per month. Life gets busy so I don't want to have a crazy high goal but having a number in mind will help me. Some weeks are better than others so who knows? Maybe I'll bust out and make a few new ones in one week!
Think outside the main meal. For me, breakfast. lunches and side dishes are especially challenging so I'll be trying to include more of those as part of my personal challenge. Perhaps for you it will be trying to find a new quick but healthy recipe that you can make for your family on a busy weeknight. Or maybe you want to find some easy recipes to make when company drops in or to have on hand in the freezer for a special occasion. The sky's the limit so set your own goals!
Find your inspiration. Whether that's from cookbooks found in your own collection, at the library or bookstore, things you've pinned on Pinterest, from cooking magazine or put into an online recipe box or even family favorites passed down through generations, there is recipe inspiration everywhere!
Share your recipe news! Challenges like this are a lot more fun when you do it with others who can encourage you. I'll be posting a weekly update on Facebook as well as here on the blog. Be sure to check back regularly so you can let us know what you tried that was new and your experience (was it as tasty as you had hoped or not so much? Was it easy or more involved than you expected?) If the recipe can be found online, be sure to share the link! Be careful though, all this sharing might lead to more recipe collecting!
A Pantry Challenge AND Recipe Challenge – Who's In?
I'm going to pair my challenge with a Pantry Challenge as well to clean out my pantry and freezer and hopefully save a little money along the way too!
Who's in ready to join the challenge with me?